Spring decor ideas are what your home needs right now. After the shady days and hibernation of winter, there's a joy to seeing spring blossom outside our windows. And there's a natural desire to bring some of that color, life and vitality to our interiors, too.
There's also a practical element to switching up our spring decor. We no longer need heavy drapes, the comfort of heavy blankets and the cozy shades associated with wintertime. 
Instead, lighter curtains allow the fresh spring air to breeze through our homes. Brighter colors 'sing' in the clear daylight (shades that might lose their vibrancy in winter's cooler light). And we can create a synergy between inside and out by introducing floral and botanical prints that connect our homes to the environment around us.
Below, we bring your our favorite decorating ideas for this most hopeful time of year.
Spring decor ideas
Color, pattern and a lightness of materials are key to creating spring decor for your interiors, and are the elements that will transform your home ideas for the season.
'You can never go wrong with floral pillows or pillows that have brighter colors than you normally have out. For a big impact, switching up one or two pillows with pops of pink or patterns that pull from nature to automatically make the room feel different for springtime,' explains Mary Jo Major, Founder and Principal Designer at Rise Interiors, based in Washington DC.
We've spoken to experts for their interior design tips to bring a springtime feel to your home decor. From simple accessory additions to transforming a feature wall, your seasonal shift starts and spring decor ideas and inspiration starts here.
1. Focus on a feature wallpaper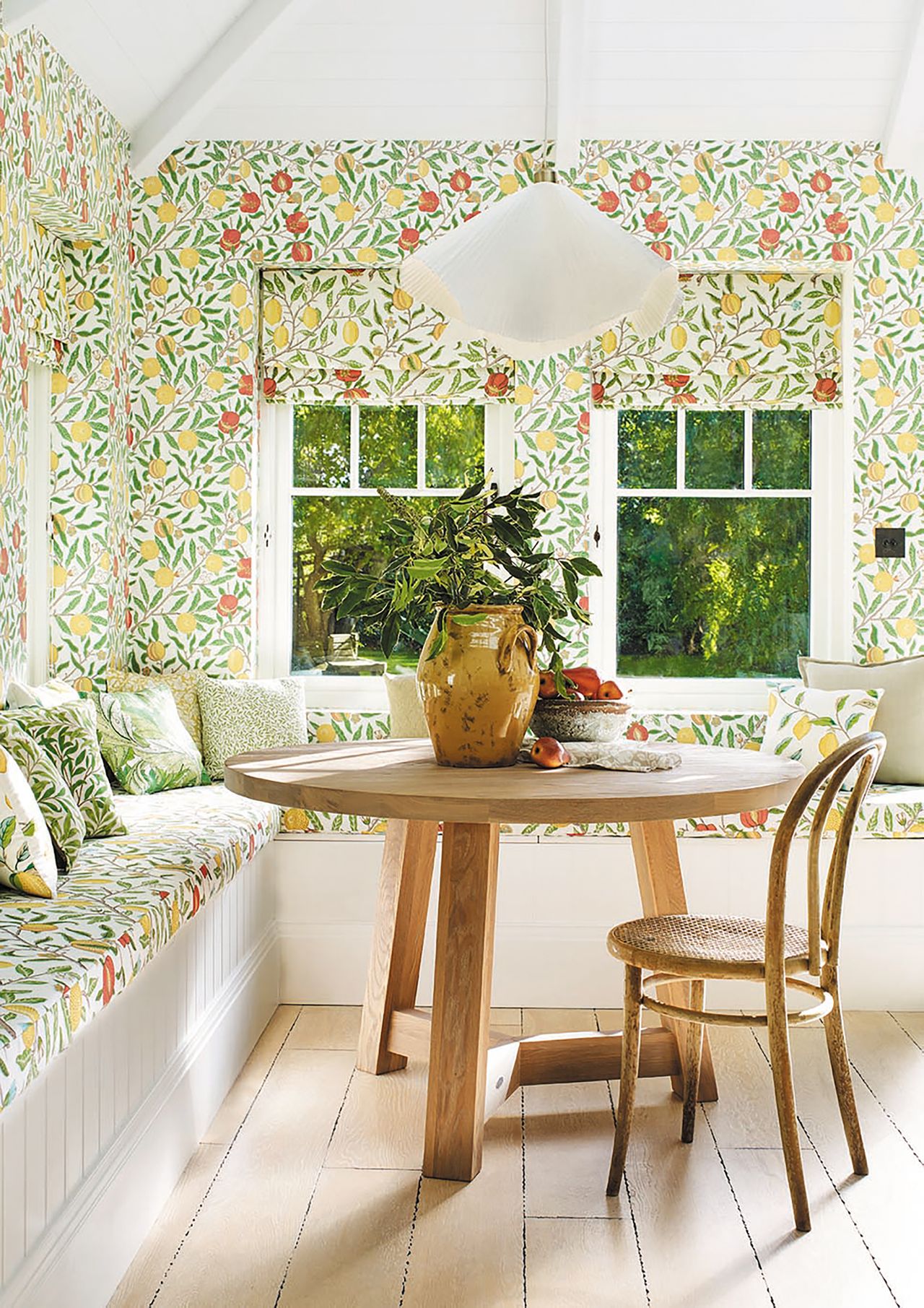 For a spring decor refresh, wallpaper ideas are an easy way to turn plain walls into a celebration of the season by adding instant pattern and color. Turn to floral room decor as your first option.
'Nature-inspired wallpaper is a great way to achieve the biophilic look for spring,' says designer Tom Kennedy from wallpaper and fabric brand Divine Savages. 'Introduce flora and fauna in abundance, with delicate shades of pastel pinks and peppermint green to create a botanical statement that's perfect for the season.' 
Keeping the background of the wallpaper white is a wise move for brightening naturally dark room. 'If a room is feeling dark and dingy in the spring sunshine, we paint the ceiling and trim our favorite white, Swiss Coffee by Benjamin Moore,' she says. 'It works well in every home we have put it in,' says Brooke Wilbratte, Founder and Lead Designer at Texas-based Tribe Design Group.
For the full effect, complement the wallpaper with co-ordinating cushions and window treatment ideas, like in this room by Morris & Co.
2. Lighten up your window treatments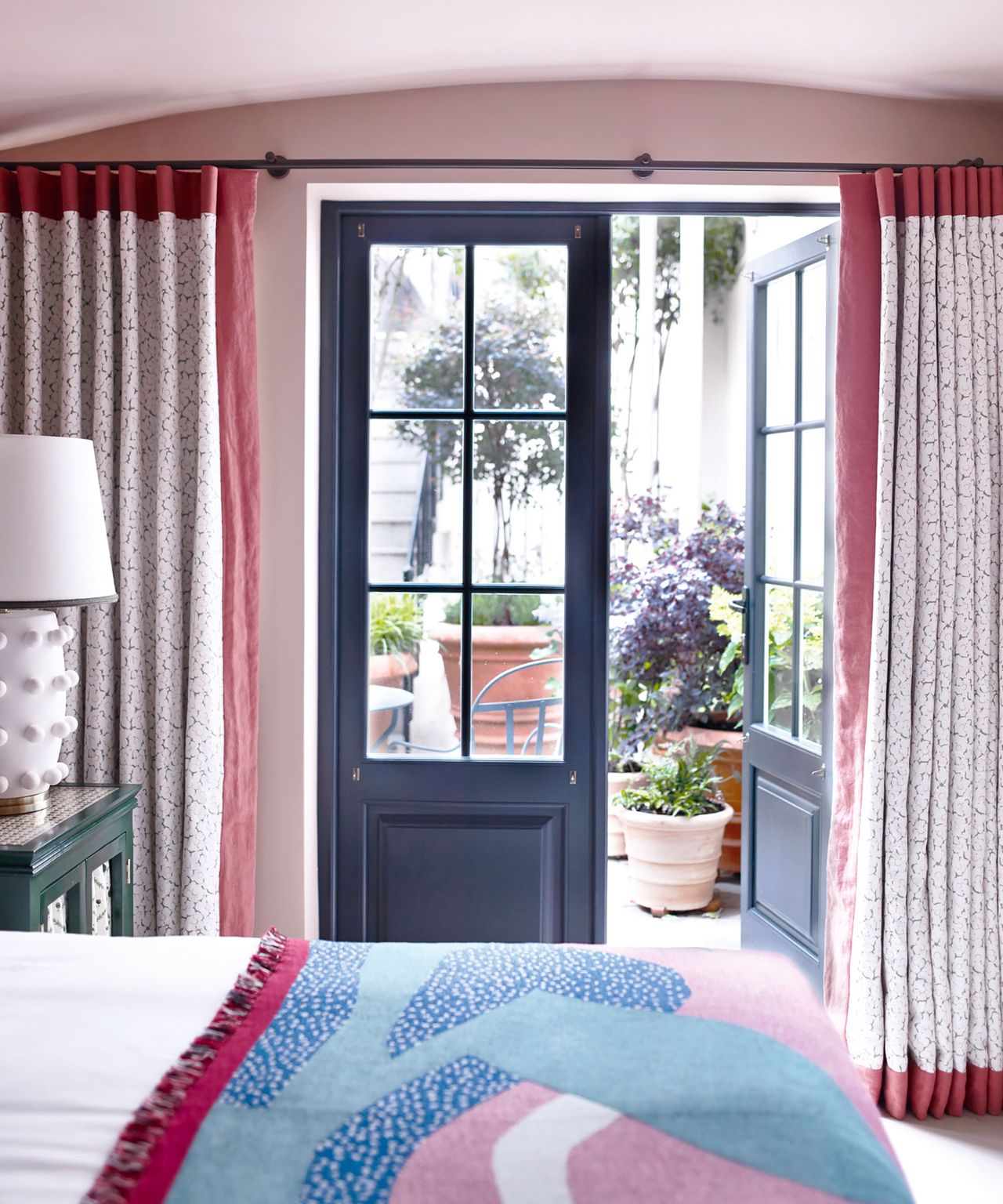 We pack away our heavy winter clothes once the days get warmer and brighter, so let's use the springtime shift as a catalyst to switch our homes' 'closets' to something more appropriate to the season.
'Ditch the dark and heavy winter drapes and change to lighter curtain ideas in pretty tones for spring,' suggests Andréa Childs, Editor of Country Homes & Interiors magazine. 'Not only will you add a pop of color to your scheme, your curtains will shift in the breeze if you leave the window open, bringing a fresh and airy feel to your room.'
'Replace heavy window treatments with lighter-weight fabric, or take down the curtains altogether in public rooms to let in as much light as possible,' suggests Mary Beth Christopher of MBC Interior Design, located in Manhattan Beach, California. 
3. Pick season-savvy colors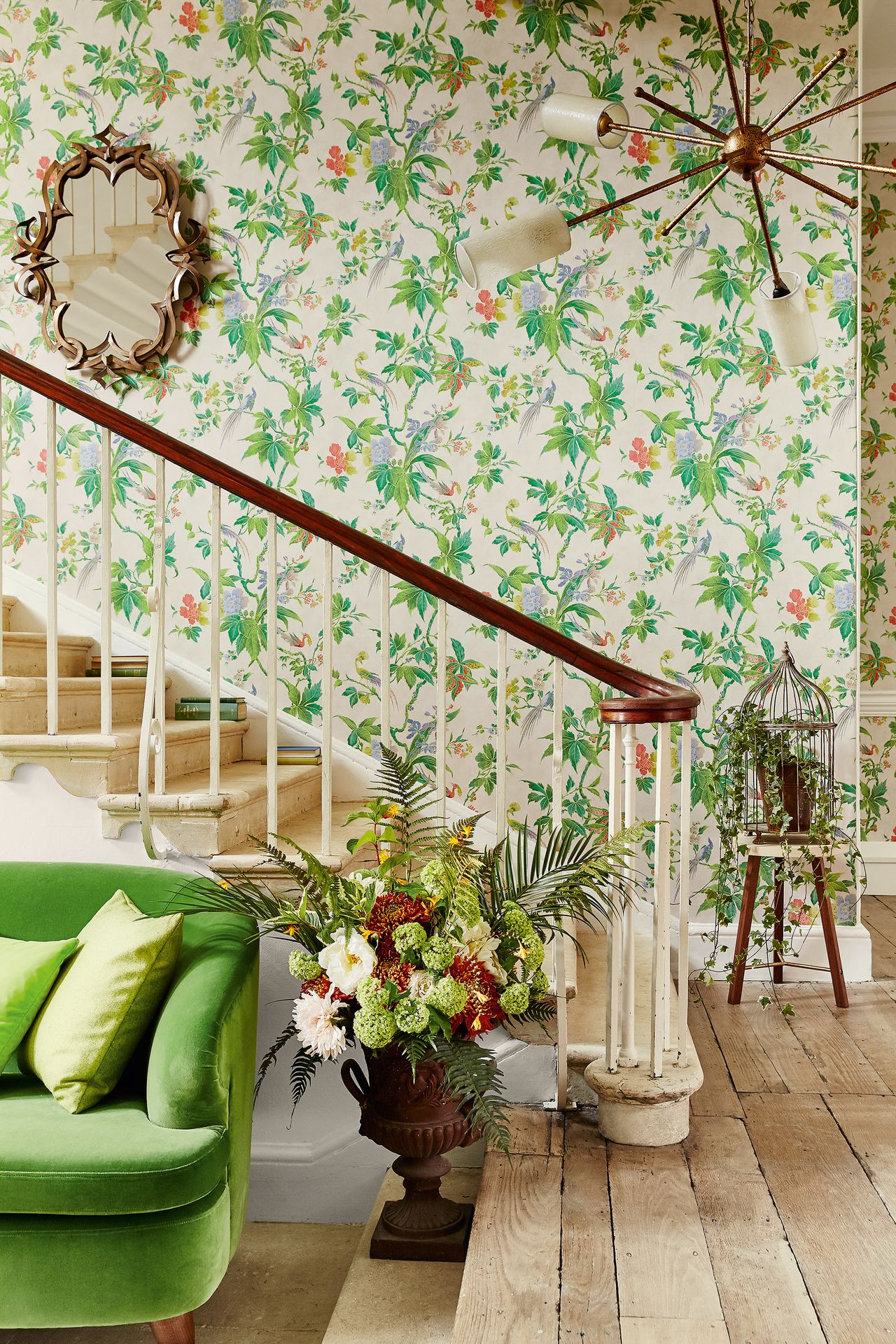 If you want to bring spring decor into your home year-round, we know that room color ideas are key. This might be in wallpaper, perhaps you'll look to inspiring paint ideas, or even colorful furniture. Simple swaps like throw cushions can change the look of a room, but think about smaller furniture pieces, too, and even a bunch of seasonal blooms.
'Seasonal ottomans and poufs can really change a decor vibe,' suggests Allison Knizek, founder of Allison Knizek Design in the San Fernando Valley. 'Apple green ottomans suggest the freshness of spring with their refreshing hue. For fall and winter, replace with a rich jewel or autumnal tone.
4. Repaint in powder-puff pastels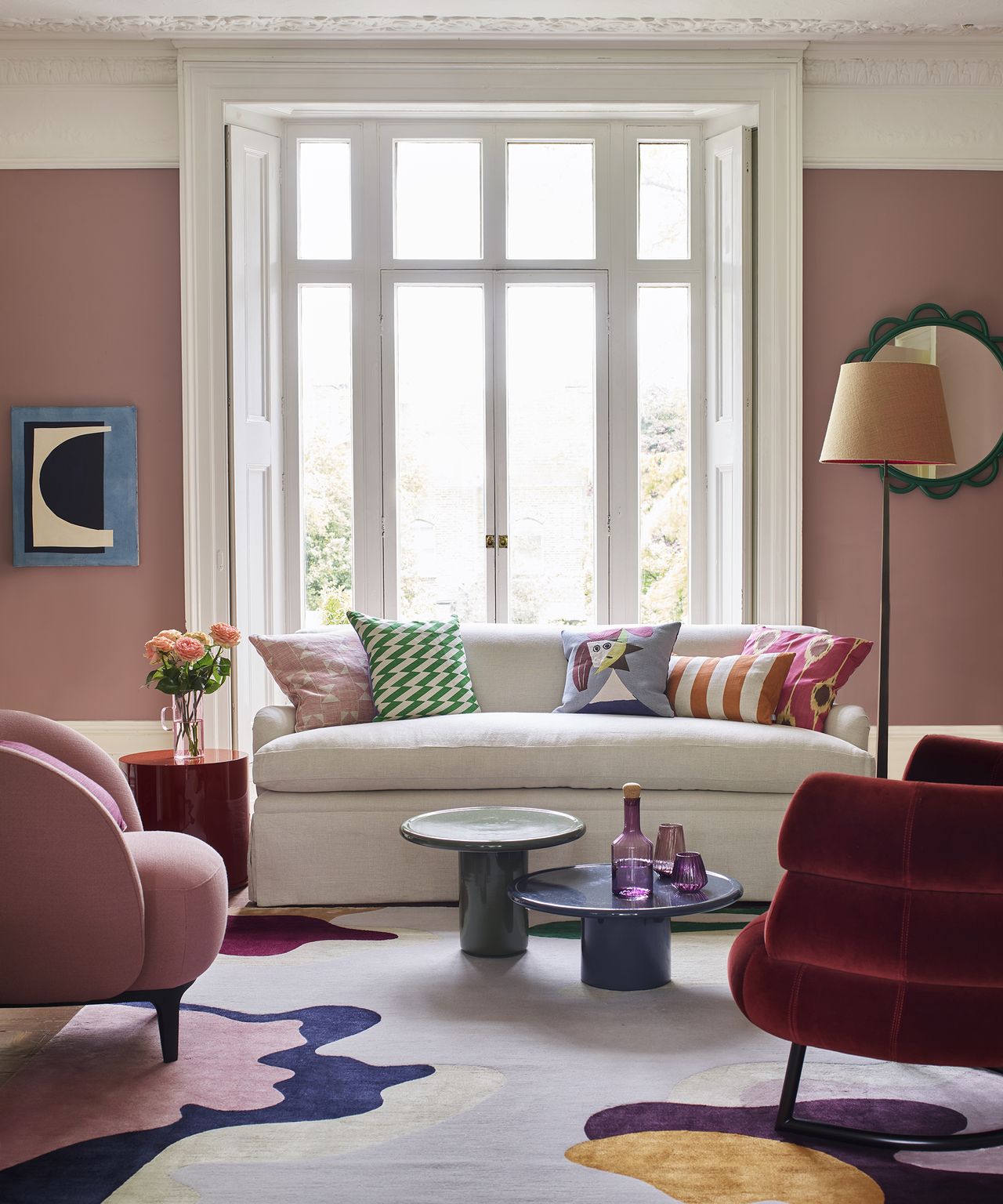 There's a trick to repainting a room for a seasonal, spring decor refresh without it seeming a chore. 
First, if you keep your walls pale but change the shade each season, you can get away with just one coat of color. The alternative is to choose a full-coverage paint that can conceal a darker shade without showing through. And if your trim is in good condition, you only have the actual wall to decorate.
'Pastel blues, yellows, pinks and mint-green are the ideal tones for springtime. These powdered-down shades make us think of new life – daffodils, birds' eggs and the pink of a baby rabbit's ears! And this is what spring is all about – new beginnings,' says Amy Stansfield, associate at Wallsauce.
'Give a room a spring decor makeover by painting a room in one of these shades and choosing a range of décor in similar tones so that the color "floats" into the rest of the room.'
5. Add snuggle-up accessories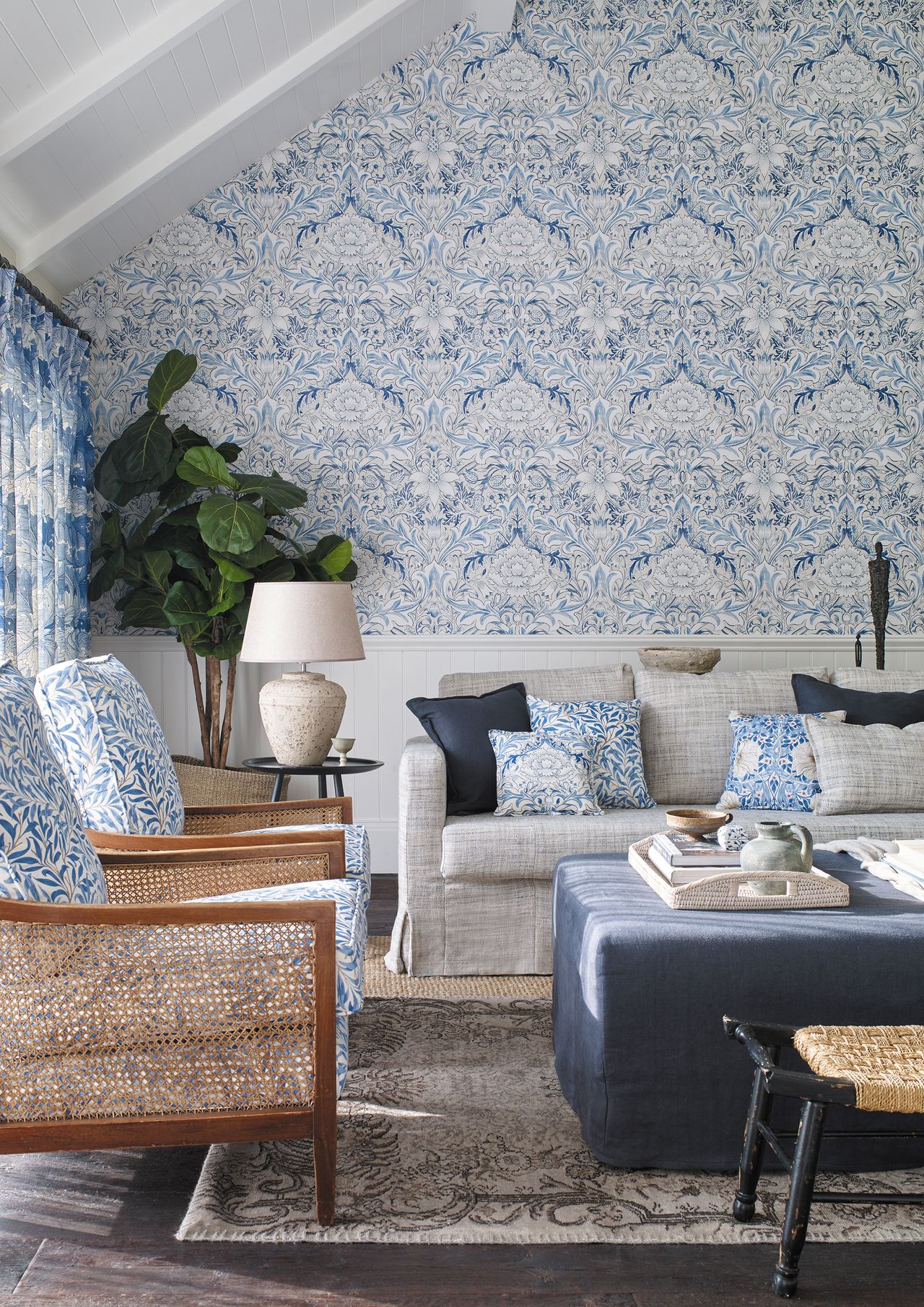 If there's one thing we know about spring weather, it's unpredictable. So, spring decor ideas need to be layered, welcoming and comfortable too. This might mean layering visually, with pattern and texture, like in the room above by Morris & Co, or literally, with cushions and throws. 
You can pack away the heavy blankets but keep a lighter-weight throw to hand for fresh morning and chilly evenings. It will add an instant color shot to your room scheme, too.
'A beautiful textured throw is the perfect accent to drape over your favorite couch or at the foot of your bed, or to fill out any nook or corner,' says Alice Kim, Co-Founder of NYC-based Comma Home. 'A lightweight throw is a great transitional accessory to bring your home's aesthetic from cozy to fresh and modern.'
6. Do a seasonal declutter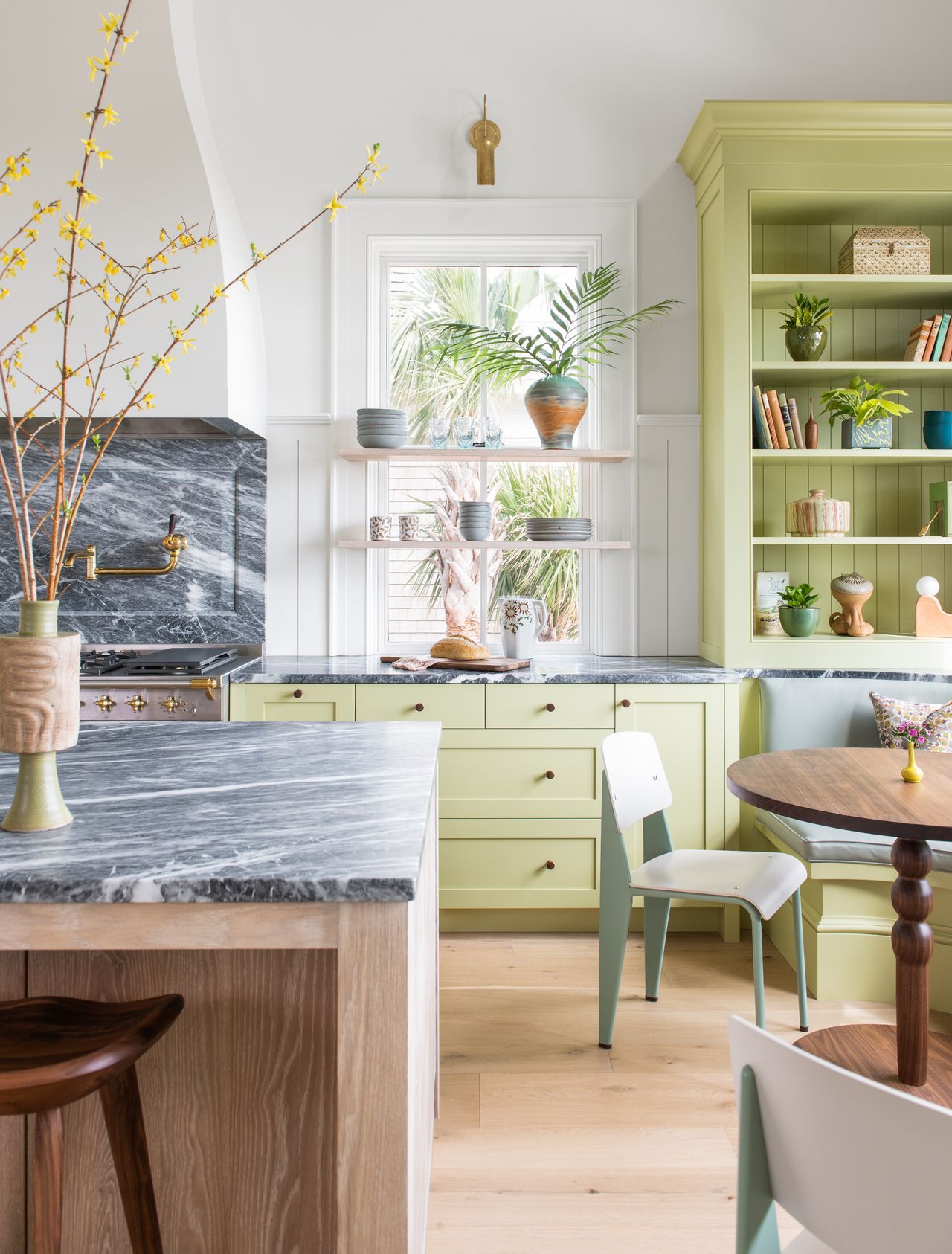 Spring decor ideas aren't just about adding to your existing scheme – it's also about decluttering. If you're set on a spring clean, use the opportunity to clear your space visually.
'Reevaluate what you have on display and decide if you have one too many tchotchkes cluttering up your surfaces,' suggests Ginger Curtis, Owner and Principal Designer of Urbanology Designs in Texas. 
'A change of seasons is a great time to step back and look at what's working in your space. Guaranteed, you will find inspiration for what can be improved, removed, or just simply moved.'
7. Fill your fireplace with foliage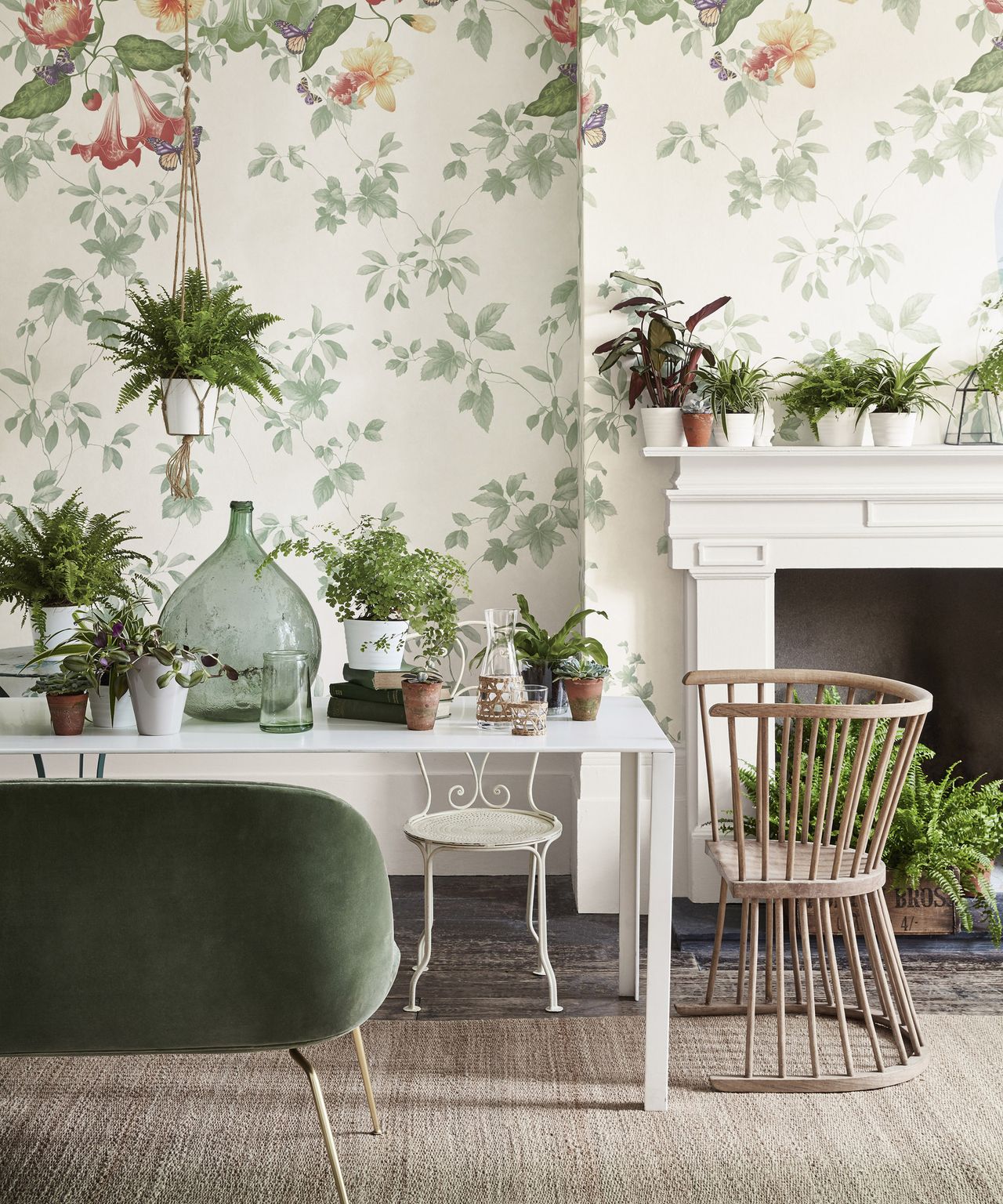 When you don't have a fire lit, your fireplace can soon turn from focal point to eyesore. The easy fix is to give it a spring makeover, with fresh foliage or flowers – and gorgeous artwork or a feature wallpaper that draw the eye for all the right reasons.
'Style your mantel with a piece of artwork with soft pastel colors such as pink, blue, and lavender to bring in the spring season. It can be an abstract painting or floral print,' says interior designer Alice Chiu, Principal of Miss Alice Designs in the San Francisco Bay area. 
Add a vase of flowers on the hearth, to cover the space where the fire would be. And indulge in some spring mantelscaping too.
8. Rearrange the furniture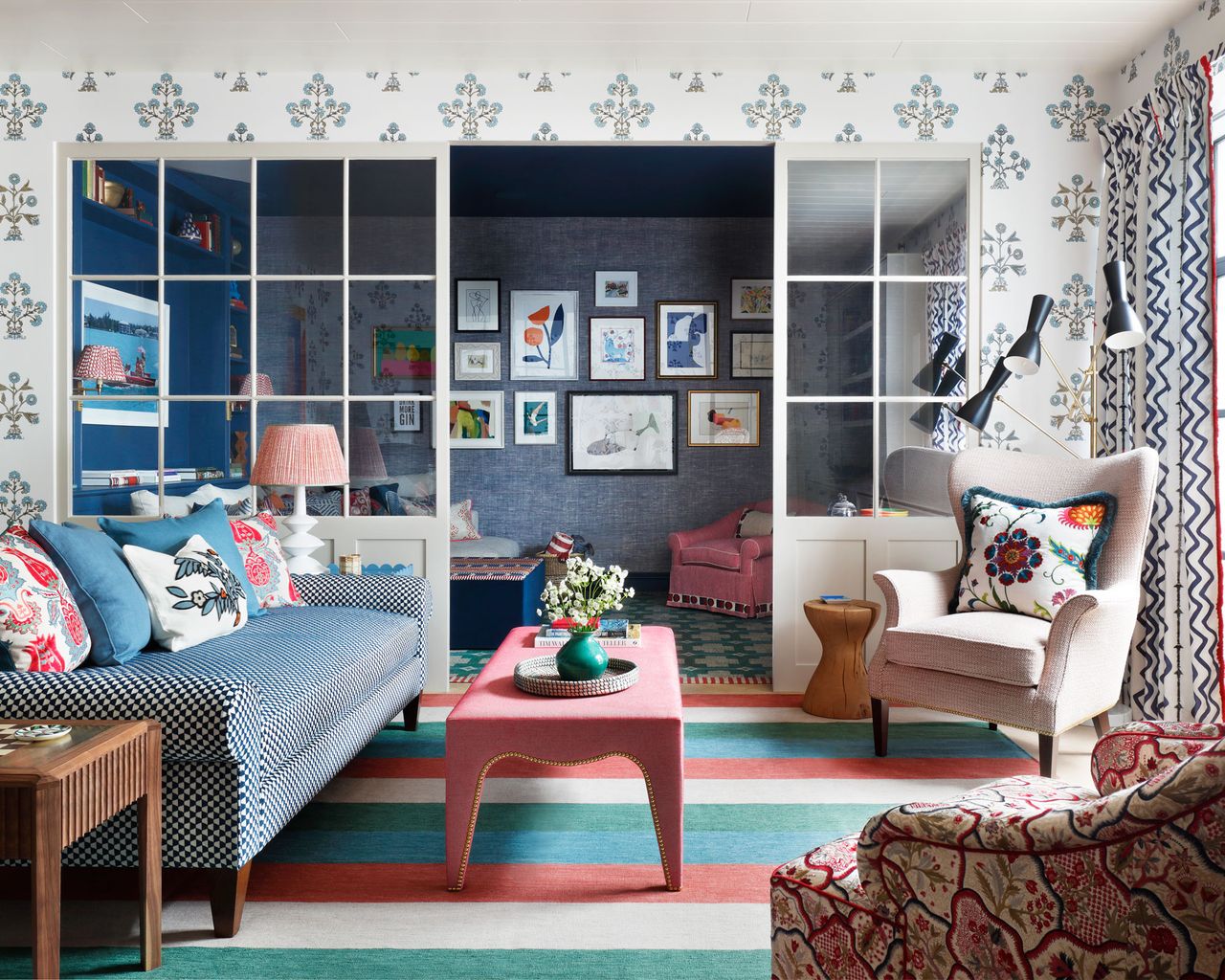 So, of course you can do this at any time of the year. But this is about how we use our homes at different times of the year, as well as how we want them to look. 
In the springtime, you may find you use an open-concept living area more than a snug; move more often between the house and garden; or even open up a room, like a covered porch, that you close down in the colder months. Or perhaps it's just ensuring that the couch has a good view of the garden as it comes to life?
'Easy and completely free, switching around the furniture can have a huge impact.' agrees Ginger Curtis of Urbanology Designs. 'It only requires a little muscle, and maybe a helper. 
'Even if you don't move the main furniture in a room, such as the couch, you can play around with side tables, the orientation of the coffee table, accent chairs and floor cushions. 
'Before starting a top Dallas interior design firm, I staged homes for sale and clients were always amazed at the power of simply rearranging furniture.'
9. Take a lighter touch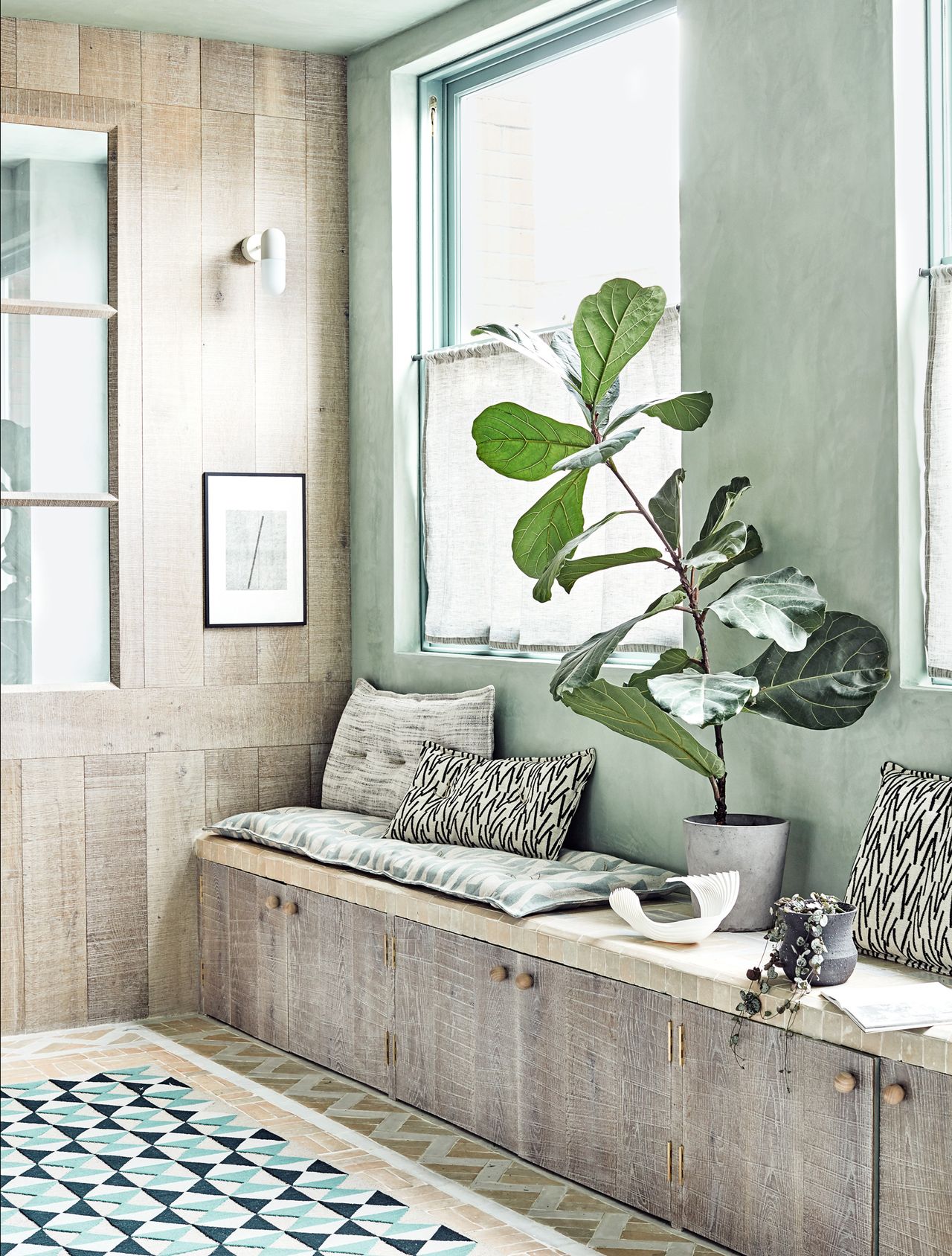 Lightly white-washing wood and matching it to pastel wall colors can instantly make a dark space feel bright. If you're going to do this, ensure there's plenty of welcoming texture and pattern to bring the space to life. You can introduce the latter with soft furnishings; texture can be added with house plants.
10. Get fresh with flowers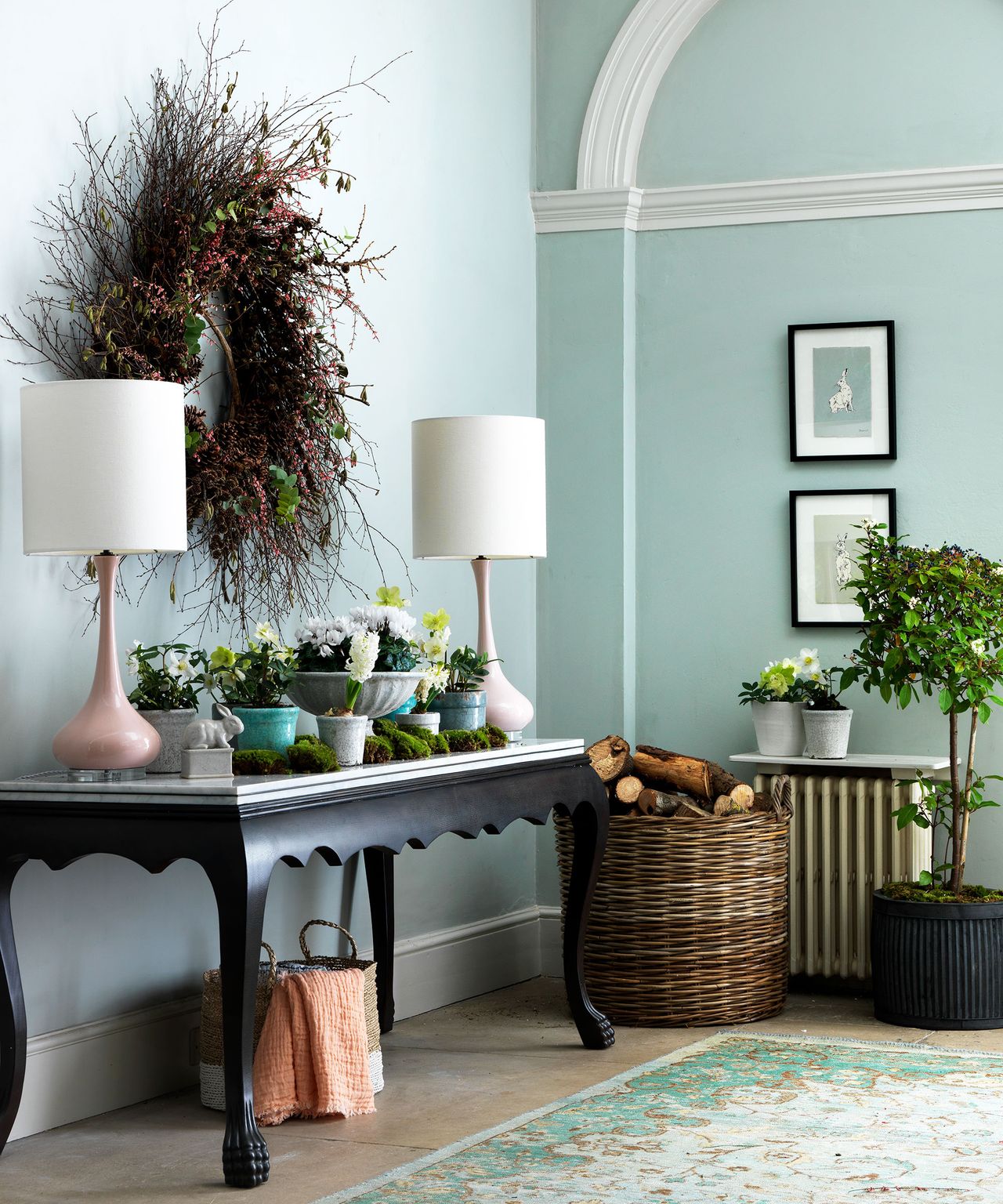 Fresh flowers are synonymous with spring decor ideas but too often we focus on formal arrangements and forget the everyday bouquets that can bring the season into our homes. Just a few fresh-picked flowers or bowls of spring bulbs can transform the vibe of a space, taking it from winter austerity to spring optimism.
'Bring the outdoors in by selecting perfectly hued blooms,' says Cortney McClure of Oklahoma-based Cortney McClure Design. 'Don't save the floral arrangement just for the dining table! Fresh sweet peas and an espresso are the perfect combination for a spring morning!'
Consider, too, how to work Easter decorations into your spring decor scheme so that they last long beyond the holiday. A spring wreath like the one above is a great way to dress your home for Easter and spring successfully.
11. Bust out the bold botanicals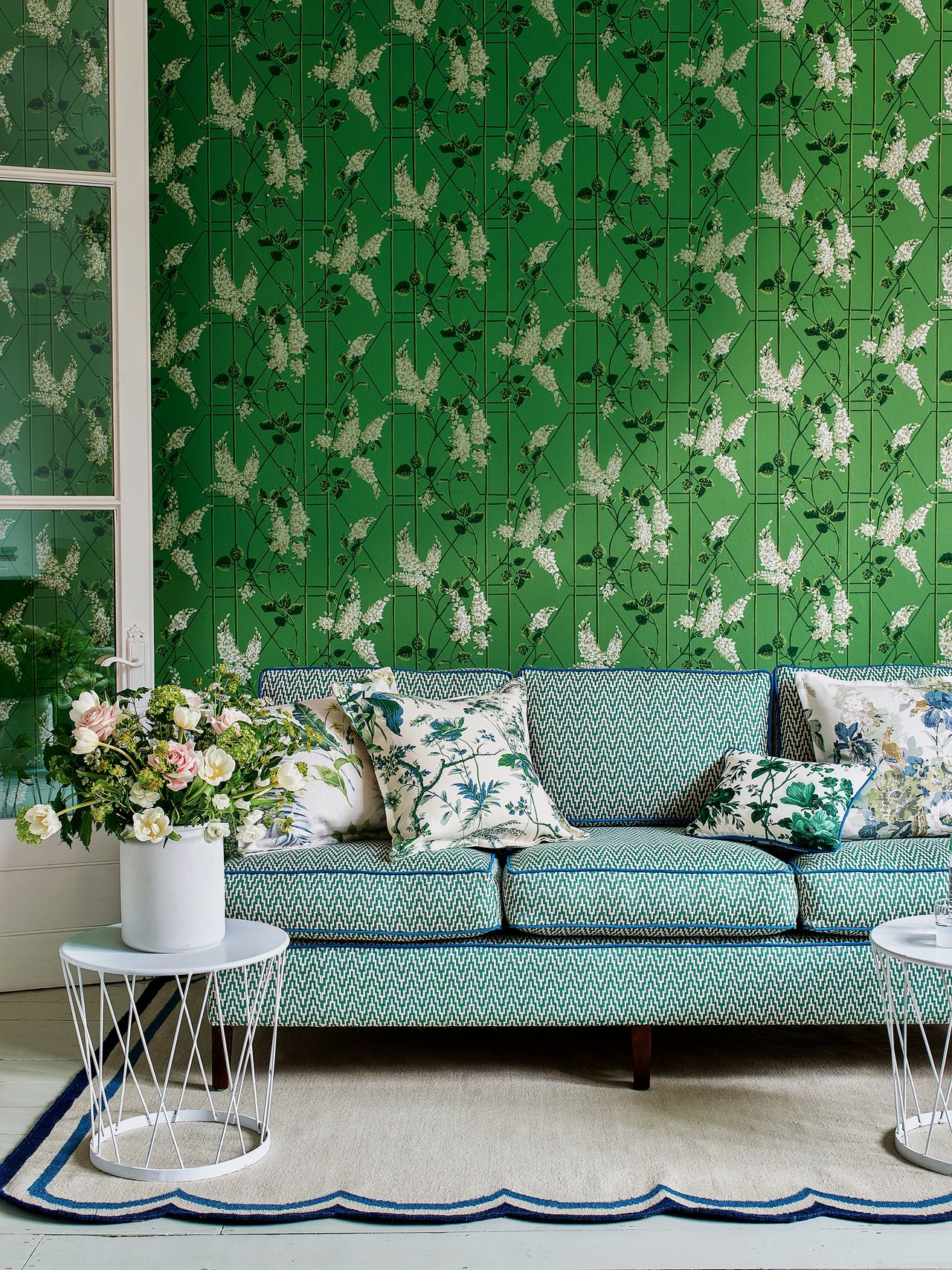 Decorating with botanicals is a sure way to embrace spring decor. 
'We love the bright colors, verdant greens and cheerful patterns associated with spring,' says Tom Kennedy from Divine Savages. 'Embrace bold botanicals and fantastical florals to lift the spirit of your home this season.'
You can use accessories to bring instant spring freshness. 'Pile sofas high with vibrant cushions, and illuminate darker corners with statement lampshades boldly boasting luscious leaves and flamboyant flowers,' Tom suggests.
12. Refresh your artwork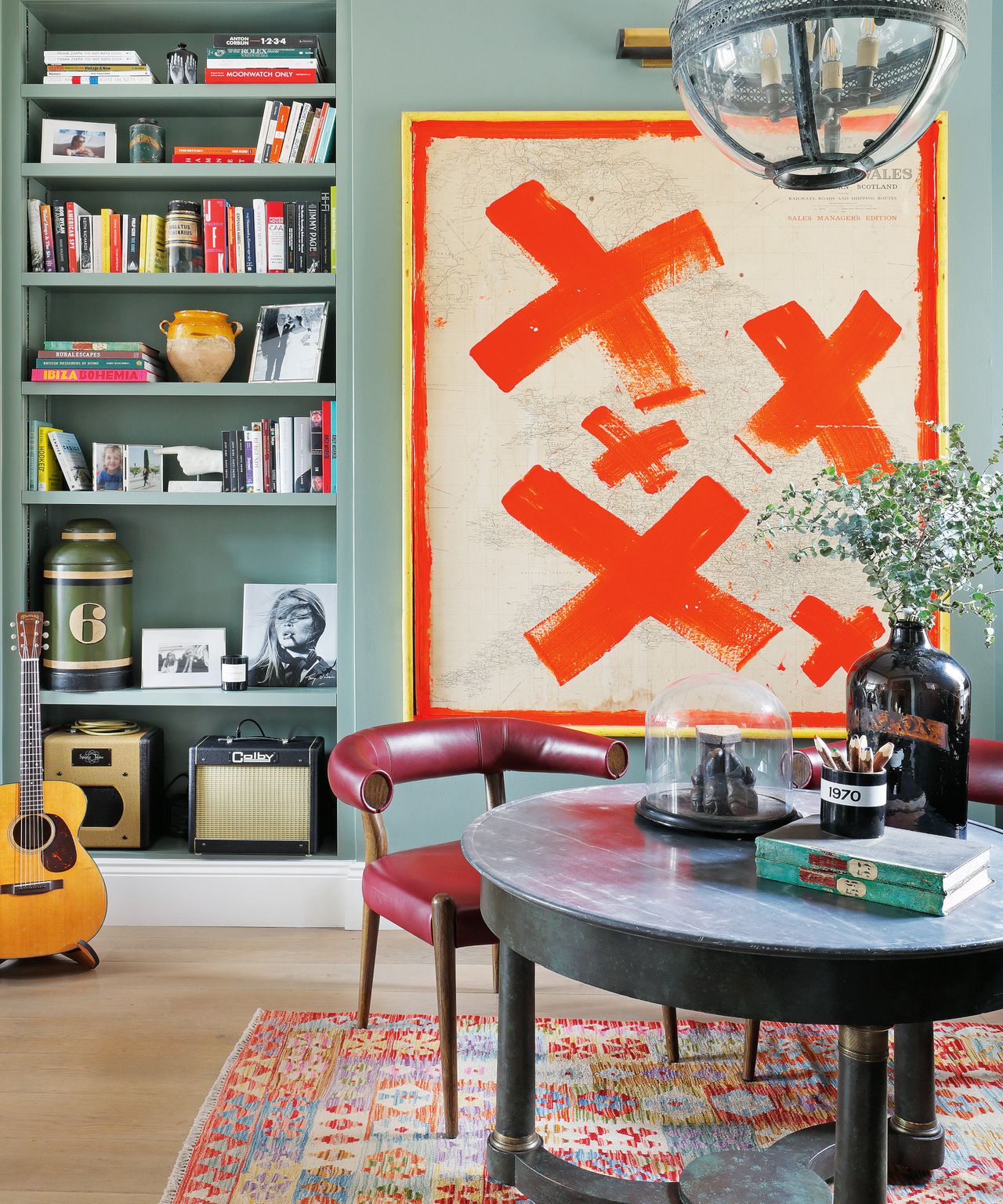 Too often, paintings and photographs become permanent fixtures on our walls – and when they stay the same, we tend to stop noticing them. But just like an art gallery will put up a new exhibition to generate excitement, you can shift or swap your artworks to bring a new visual dimension to your interior decor. For an even faster fix, buy a new print online and display it in your existing frame.
'Your art can definitely reflect spring, too,' says interior designer Rosanna Bassford of Eggshell Home, which is based in the San Francisco Bay area. 'Change out or rotate your artwork with pieces that reflect what spring means to you. It can be a bright, happy color, a subject or a place.'
Score extra design points if you add a rug to match your artwork, too.
13. Trade in your textiles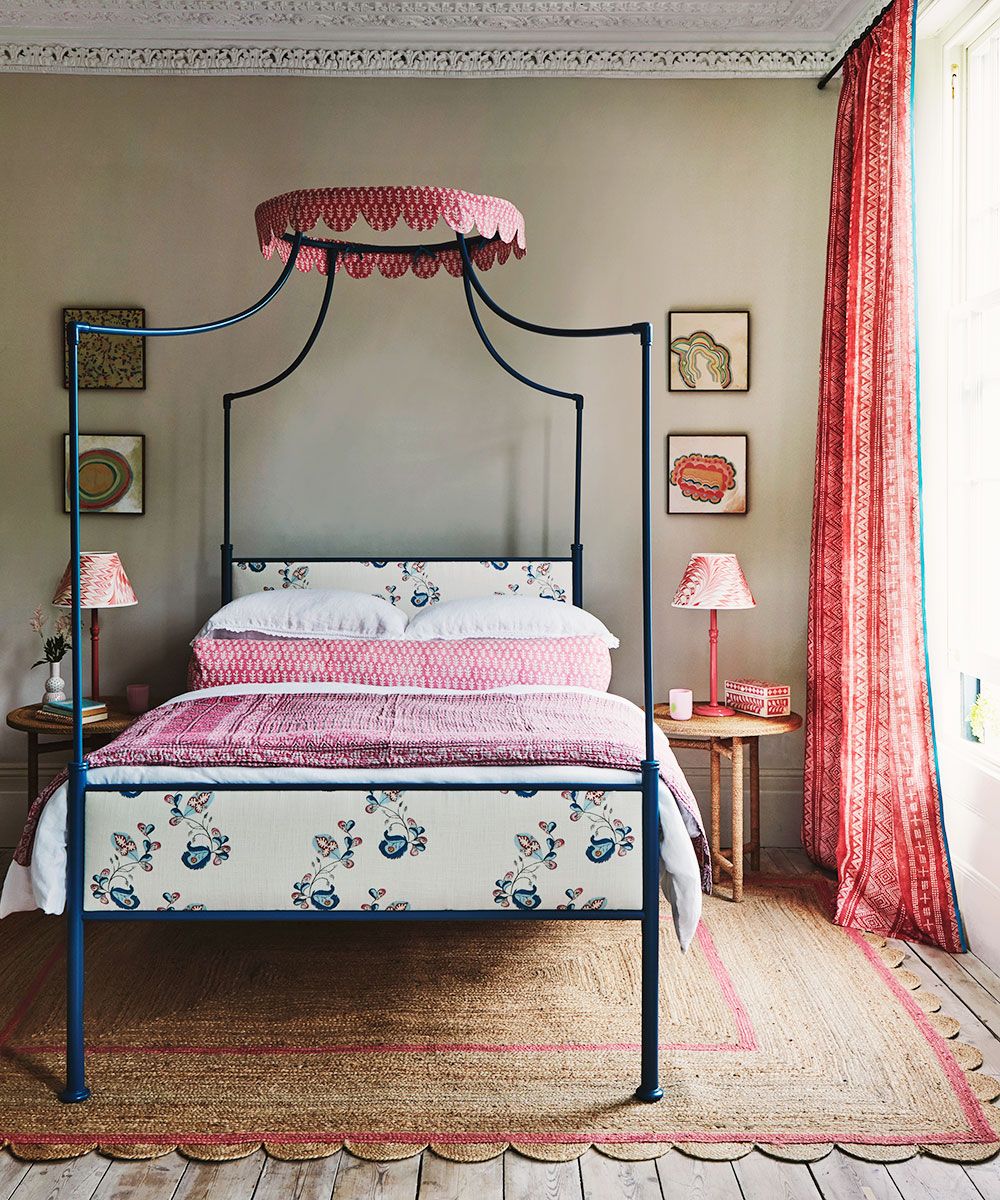 'An easy way to update your space for spring is to swap your textiles for lighter-weight fabrics – wools for silks, velvets for wovens. It lifts the space for the warmer weather,' explains Anastasia Casey founder of IDCO Studio of Austin, Texas.
Anastasia is a fan of florals for the spring season, too.
'It's definitely time to bring florals into the mix,' she says. 'My favorite way to do this is using handprinted block patterns from Indian makers. I also typically move more toward grays from browns, and from deep moss to paler sages.'
14. Decorate with potted plants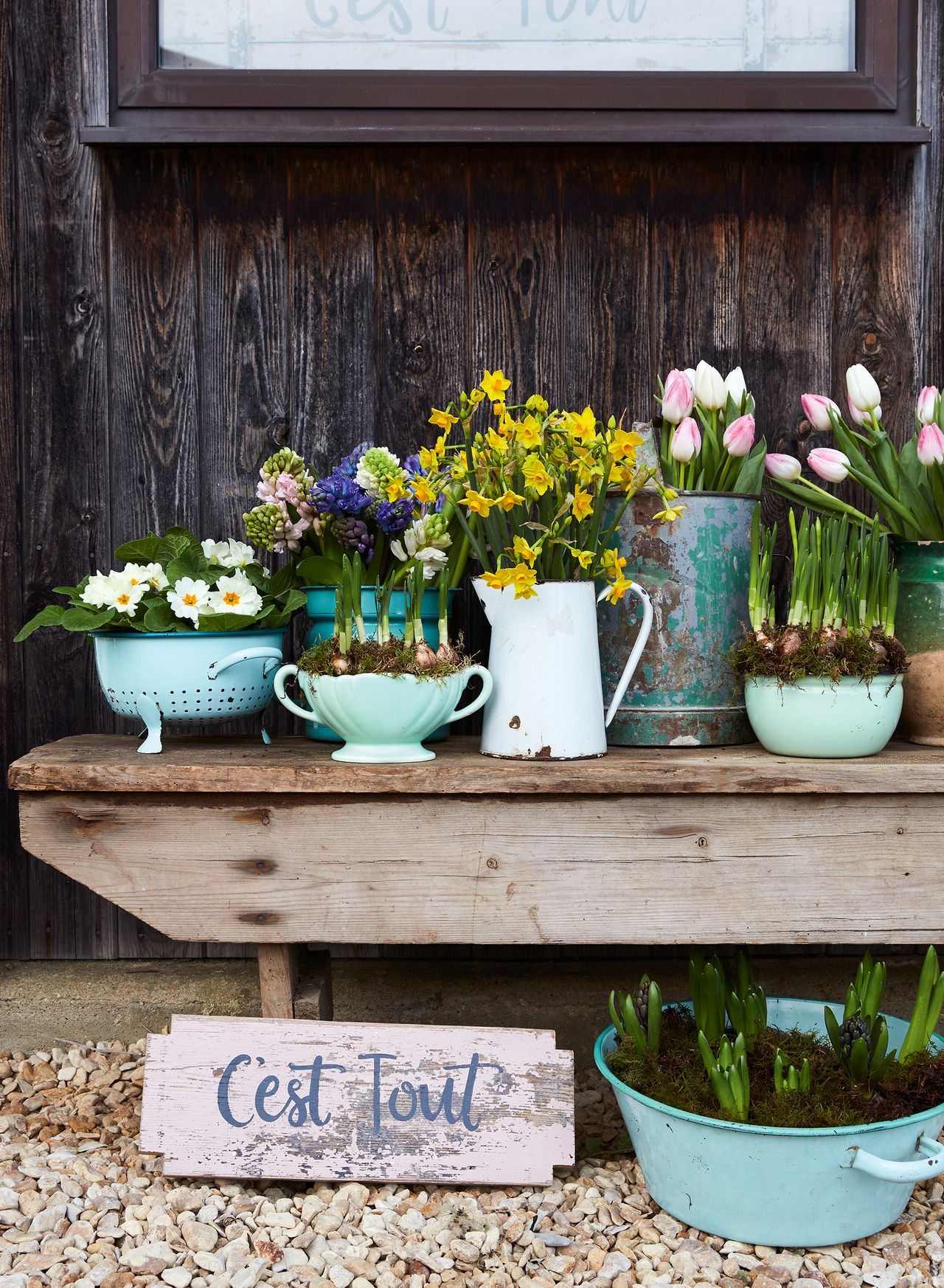 The buds are blooming outside, so bring that uplifting greenery inside with plants.
'When spring flowers start blooming, I love to pick them up at the market and sprinkle them throughout our homes in vases,' explains Brooke Wilbratte, Founder and Lead Designer at Texas-based Tribe Design Group.
15. Shop your home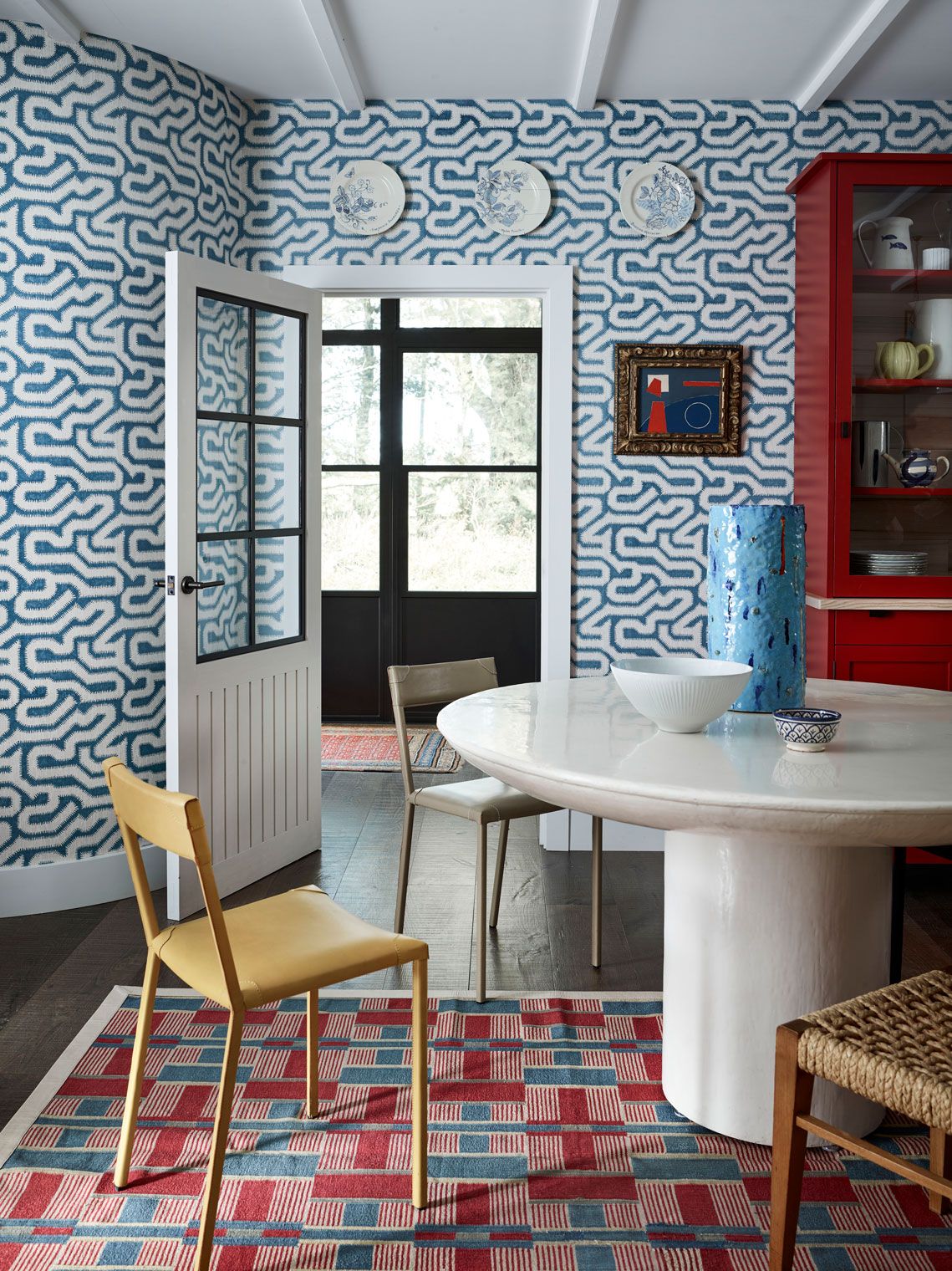 Yes, the spring sales can start in your own front room.
'Another free and fun way to freshen up your home is to take a look at the other rooms and see which pieces you can swap. This goes for furniture and prints, pillows, candles, dishes, plants – the list goes on,' says interior designer Ginger Curtis. 'Check your cabinets for interesting vases or baubles patiently waiting for their time to shine.'
16. Add a jewel touch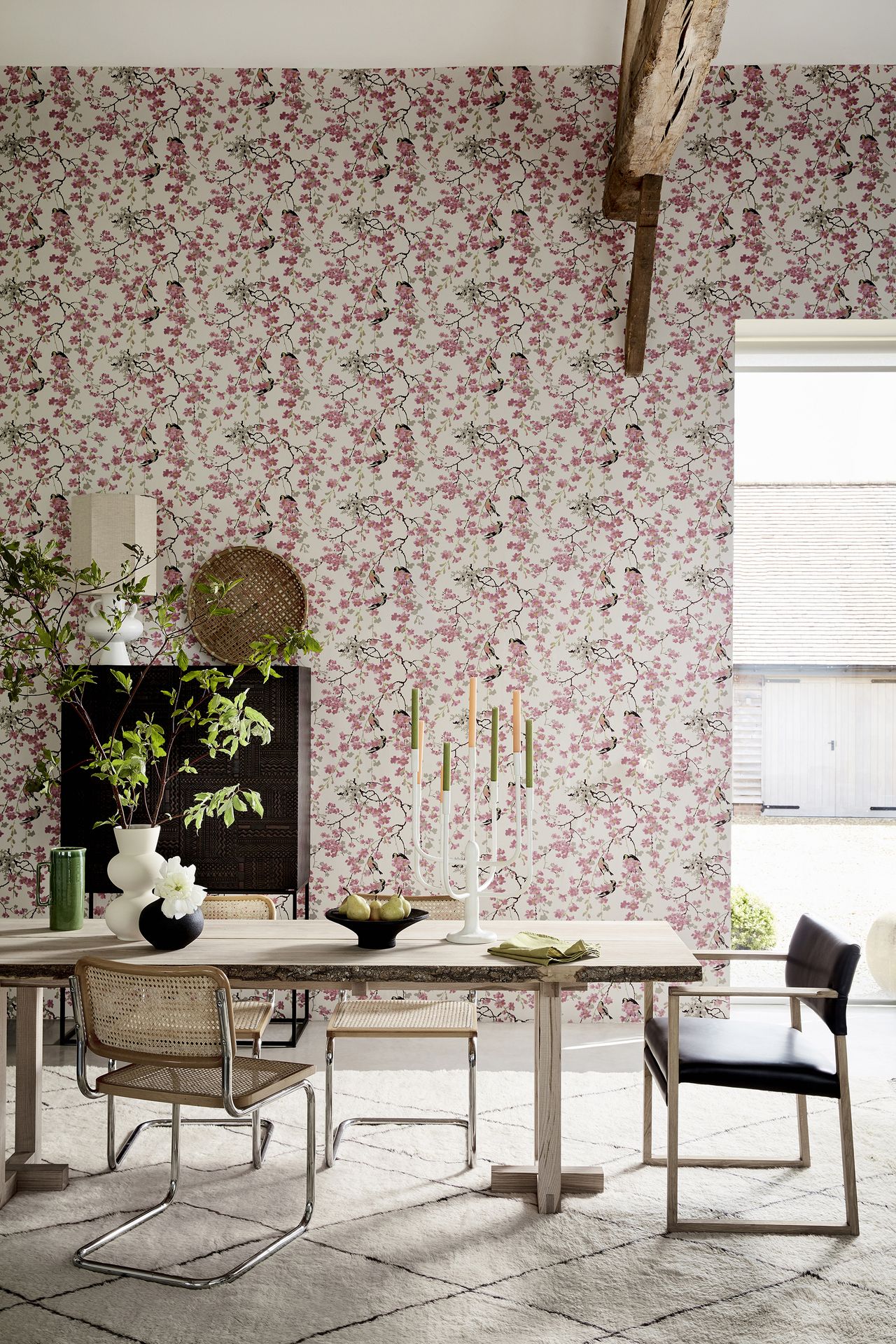 Not everyone appreciates soft, pastel shades, which can make the shift to traditional spring decor feel unwelcome.
'While pastel hues are often associated with spring decorating, a contemporary approach embraces jewel tones reminiscent of vibrant blossoms and deep sunsets,' says California-based interior designer Sarah Barnard, who specializes in creating spaces that support wellbeing.
As well as creating a personalized color palette, Sarah suggests other ways to give your springtime interior a feelgood touch. 'Celebrate the arrival of spring by creating a visual experience that is deeply rooted in nature. Utilize natural textiles with illustrations or embroideries of birds, butterflies, and blooms to bring the benefits of the natural world into your home.'
17. Work spring into your home office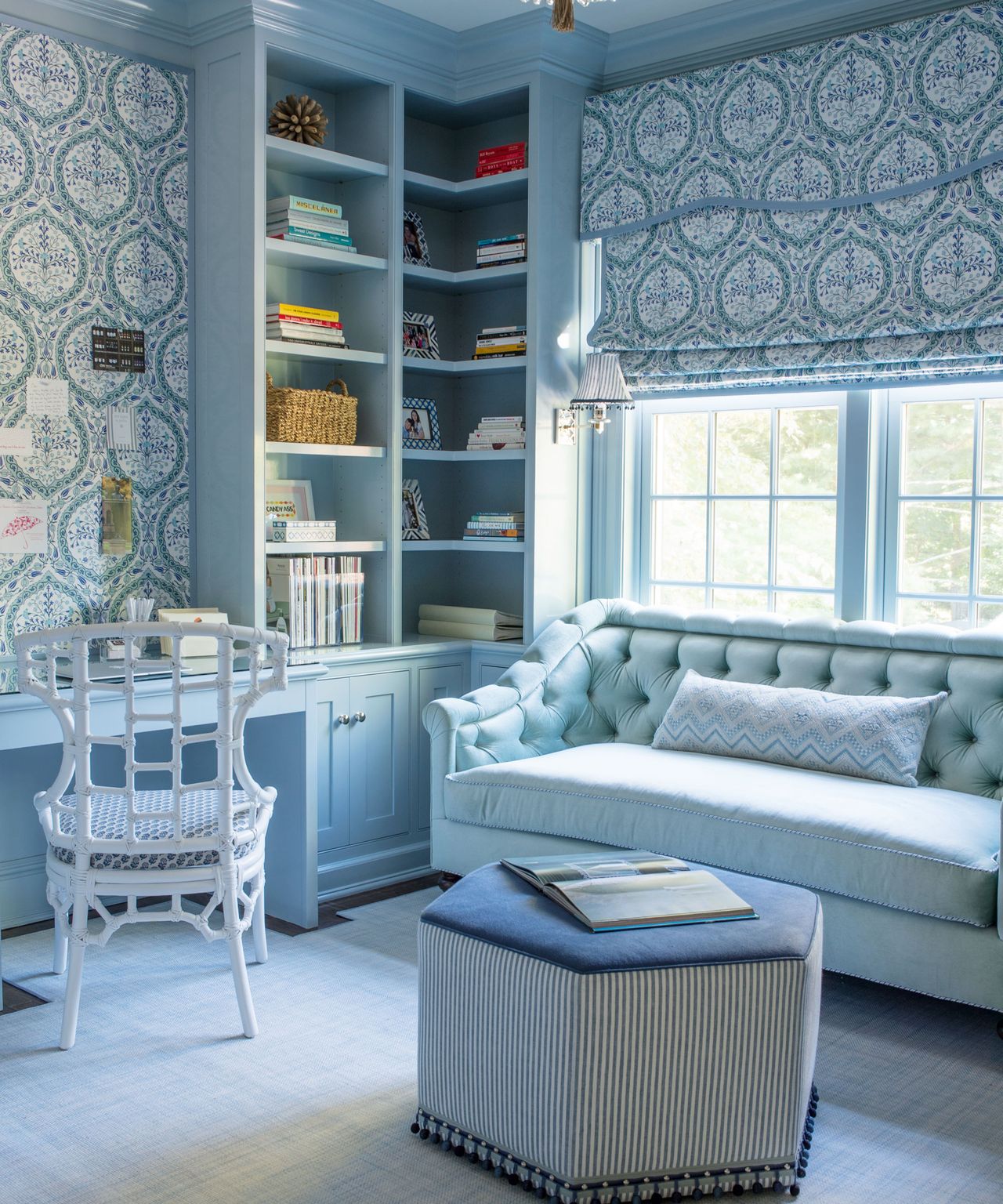 So you're sat at your desk, but that doesn't mean you can't brighten up your work day with a little spring decor. File it under 'must do'. 
'Keep two or three personal photos in your workspace and rotate them with the seasons. For spring, have outdoor photos with trees and flowers in bright pink or yellow frames,' suggests Elizabeth Sandler, workspace designer and CEO of Echo Juliette.
'Brighten up a memo board with floral peel and stick, magnets or push pins in spring colors. Take those highlighters and colored markers out of the drawer and put them into a glass on your desk. Instead of putting flowers in a vase, bring a full tree into your space for spring. And to encourage you to go into the porch or garden, put out a beautiful pitcher and some glasses on a tray in your outdoor space.'
18. Create a display in spring decor colors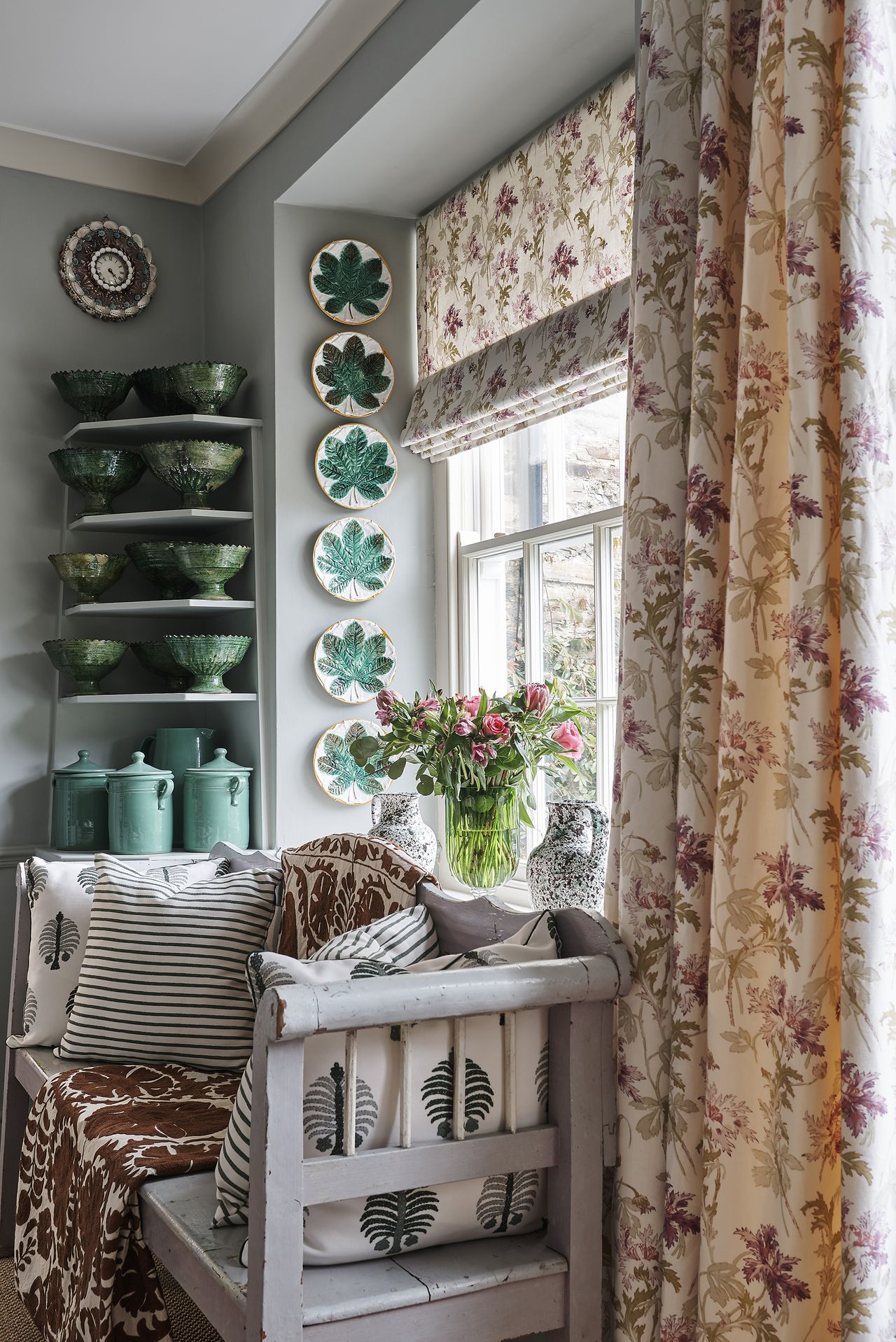 Hanging plates on a wall or stacking up pottery on shelves is a wonderful way to add color and pattern to a room, but pick spring decor shades and you will inject a fresh feel into your room without having to decorate – and of course, you might be able to shop your home for these items. We love the doubled-up approach in this room by designer Penny Morrison.
19. Add a splash of exuberance with summery shades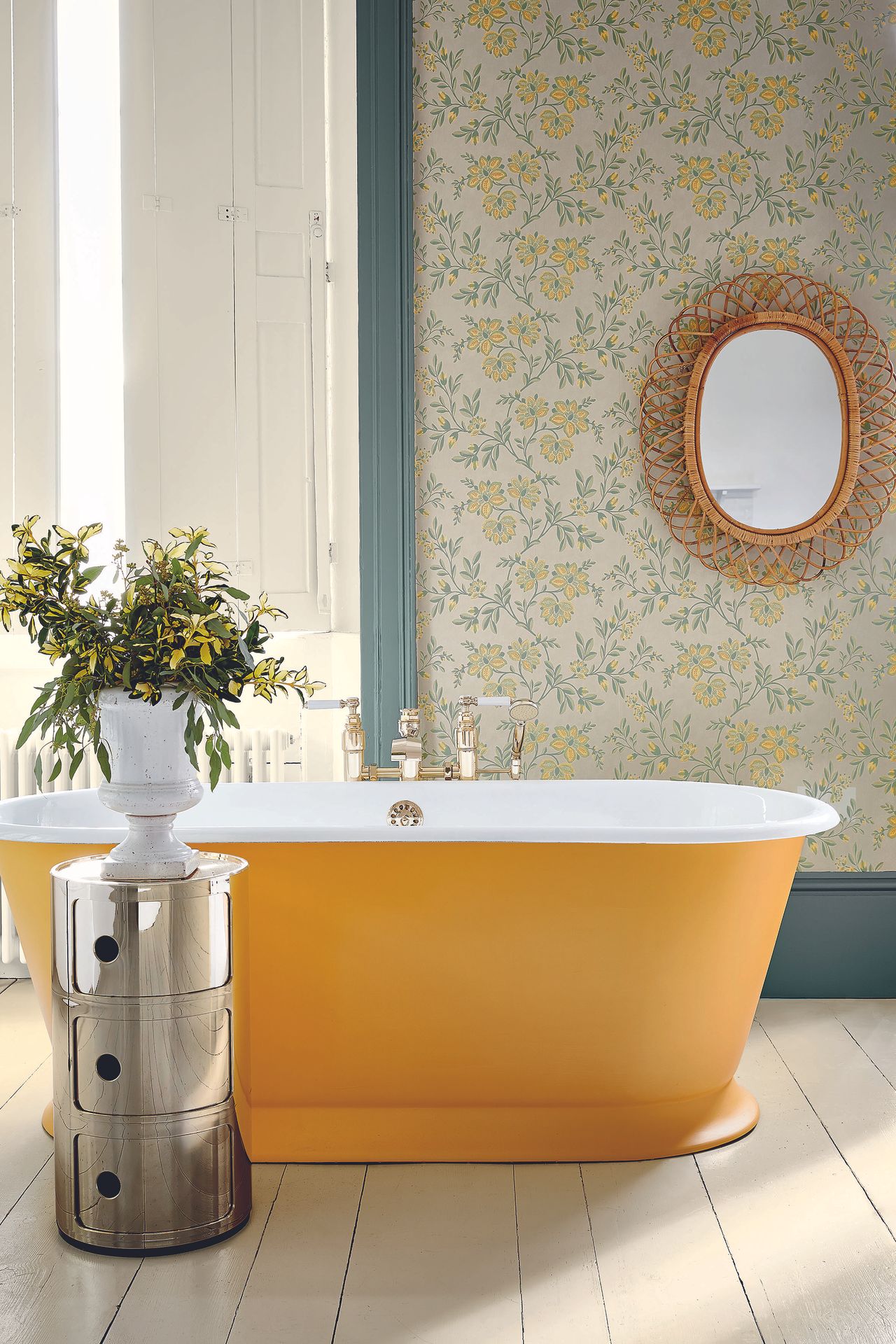 Yes, of course we are focussing on spring decorating ideas, but we're hopeful that summer weather will follow on quickly – and you can bring that sunshine into a spring-styled room with just a single splash of bold yellow. Yellow room ideas are guaranteed to turn up the heat – and they needn't be overpowering. 
20. Bring spring decor outdoors, too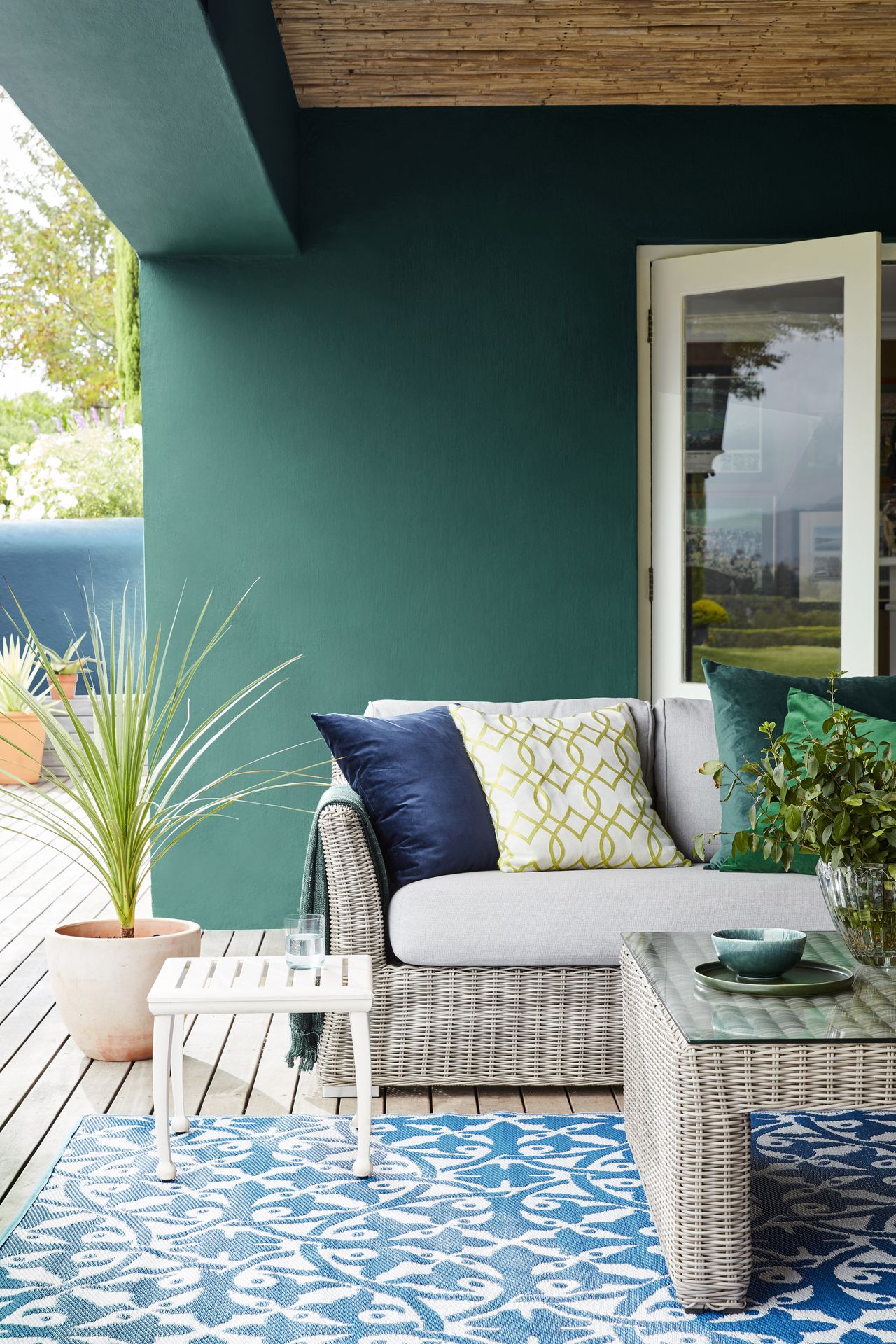 The backyard as living space is a trend that's set to continue, and spring is the time to create an outdoor area that works for you.
'Exterior spaces are getting significant makeovers, with people devoting more time to the care of their homes in general and exteriors in particular. We're moving a step above lush gardens and manicured landscaping to create more outdoor living and workspaces,' explains Dave Adams from furniture brand, BDI.
For spring, you may still need heat outside, so furnish your porch or outdoor living space with a heater and cover or screen to protect from sudden showers. Make sure you have comfortable seating so you actually stay long enough to make the most of the space. And dress it for the season with colorful accessories.
How can I decorate my house for spring?
'If you're looking for a simple way to spruce up your interiors for springtime, try adding flowers,' suggests Karin Sun, textile veteran and founder of Crane & Canopy. 'Whether it's a bouquet of them or just a few picked from your garden, they are guaranteed to transform your room into a spring oasis. If you are unable to put flowers into your bedroom, try adding  throw pillor that has a flowery print instead.'
Floral prints also bring the springtime feel to a home, so good spring decor ideas include flower-patterned accessories such as china, rugs, throw pillows and even towels.
What are the best spring colors?
Pastel tones such as pink, pale blue, lilac and soft green are  associated with spring, as they reflect the flowers and blossom you'll see outside. Karin Sun is also a big fan of yellow.
'The color yellow symbolizes the sun and can be seen in a variety of spring flowers. It also brings a happy feeling into the home with its bright hue, which is exactly what we want for spring,' she says. 'If you want to make a bold statement, use a yellow duvet or quilt. If you're looking for something subtle, a yellow throw pillow.