Make a 'howdy all' statement from the outside in with spring front porch decor ideas that welcome guests with a personality-packed first impression.
We're all looking to take outdoor living to the next level with easy and quick tips to revamp our space just in time for sunshine socializing with friends and family. 
Transform your front porch design into a social honeypot of buzzing activity with comfortable seating, textures galore – from patterned floor tiles to maximalist throw pillows; and a riot of bright, and beautiful blooms. 
Spring front porch decor ideas for a fresh seasonal fix-up
Social media searches for 'front yard' and 'front porch' have reached a five-year high, according to gardening professionals.
The experts at gardening and outdoor specialists GardenBuildingsDirect.co.uk say that more and more people are exploring how to decorate a front porch in order to bring a splash of color and make it an enticing entrance to visitors.
By positioning plants and products to suit this space, it can provide a warm welcome for anyone visiting your home.
A spokesman for GardenBuildingsDirect.co.uk says: 'Historically, front yards and porch areas may have been overlooked while people concentrate on their back gardens. But there has been an increase in social media traffic for these areas of our homes as people look for creative and innovative ways to make the most of these spaces.'
Richard Petrie, home expert at Thomas Sanderson, comments:
'Your porch is the gateway to your home, and the way you choose to decorate it is a great way to reflect your style and personality. As the first visual point for new guests entering your home, it's essential you style your porch to your own taste!'
'Even if you have just a few spare feet next to your door, it's important you maximize the space as much as possible… Choose lightweight, low profile plant pots on either side of your door filled with plants that can easily be moved if needed.'
'Remember that symmetry is key to making your porch appear larger, so even-numbered products on your porch is a great idea to create that mirrored design and spacious appearance.'
1. Rock-out a mono scheme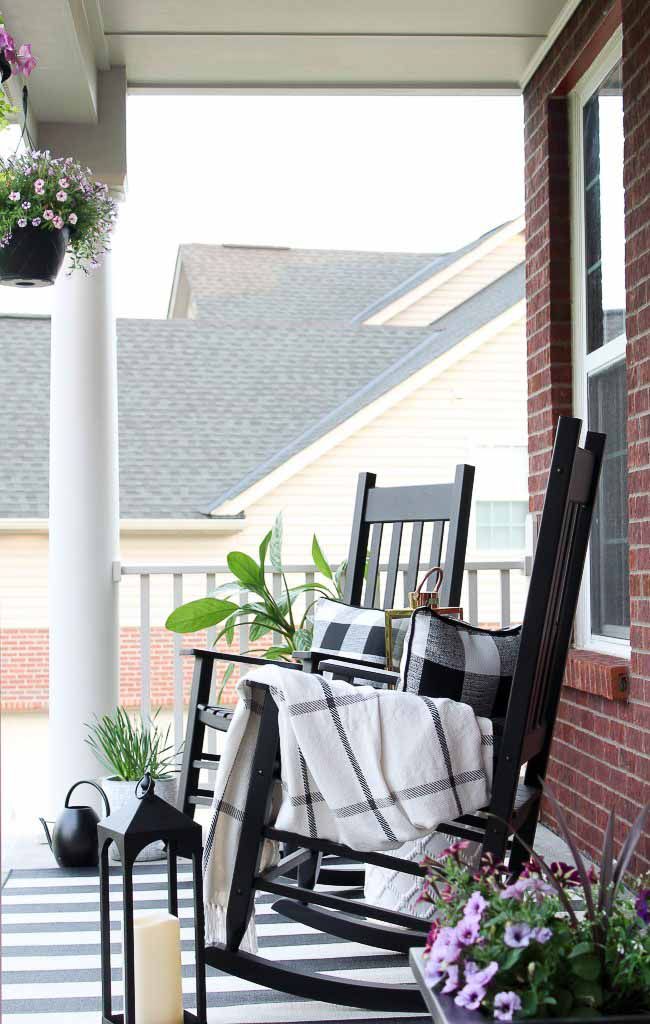 Give your porch a timeless yet fashion-forward update with an enduring black and white scheme. Shown here, smart checks and stripes in a two-tone contrast create a striking and clean look with an air of contemporary chic. We love. 
Martina Gieske from The Lived-in Look, says: 'You can never go wrong with a pair of outdoor rocking chairs 2022, it's the porch version of "the little black dress". Toss in a pair of patterned throw pillows for fun and accent your porch with a pop of colorful pansies.' 
Feeling peppered up for change? Check out Martina's 5 simple steps for a gorgeous spring porch.
2. Create a colorful plant paradise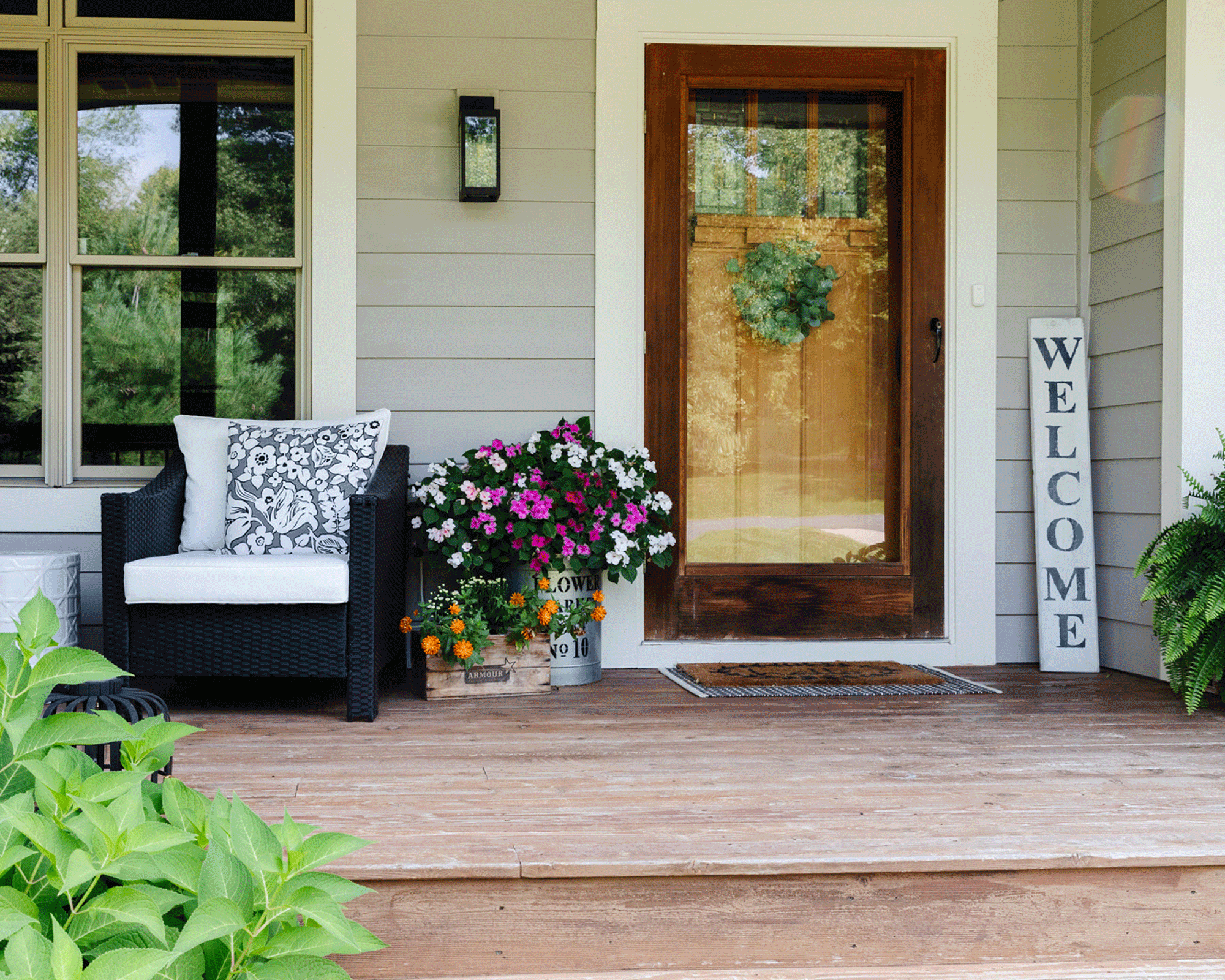 Bring your porch to life – quite literally, with a dazzling display of potted plants and flowering species. Create a striking container garden with an abundance of plant textures, colors, and sizes, staggered at various heights.
Giovanni Scippo, director at 3D Lines, says: 'For a no-fuzz spring porch, bring out lush greeneries and fresh florals (or faux if you want some lasting décor). Arrange them in pots of varying sizes in DIY plant stands. Spruce up your door by updating its color to something fresher and brighter fitting of springtime. Put out a new welcome rug that is just as fun. If you are lucky enough to have a bigger porch, set up some tables and chairs, throw in pillows in pastel or another happy color that matches your chosen florals. If you're feeling a little extra, you can even add candles and lamps in pretty holders and glass stands!'
Cassi Hallam, System Pavers, says: 'Planting colorful flowers is a great way to bring a touch of sunshine to your porch. There are endless options to choose from, so pick a flower that will complement your style. Daffodils are a spring favorite around the country and Black-Eyed Susans are extremely easy to grow. Homeowners can also energize their porch furniture with fresh throw pillows that add bold pops of color.'
Andre Kazimierski, CEO, Improovy Painters Elmhurst, says: 'One of my favorite ways to dress up a porch for springtime is to add flowers and other plants. You can do this traditionally with potted and hanging plants along your porch, or you can go the more creative route. Consider using things like old chandeliers or boots for planters. You might also consider utilizing a vertical herb garden or trellis wall on your porch, which is both pleasing to look at and practical!'
3. Add pops of terracotta to lighten up a gray space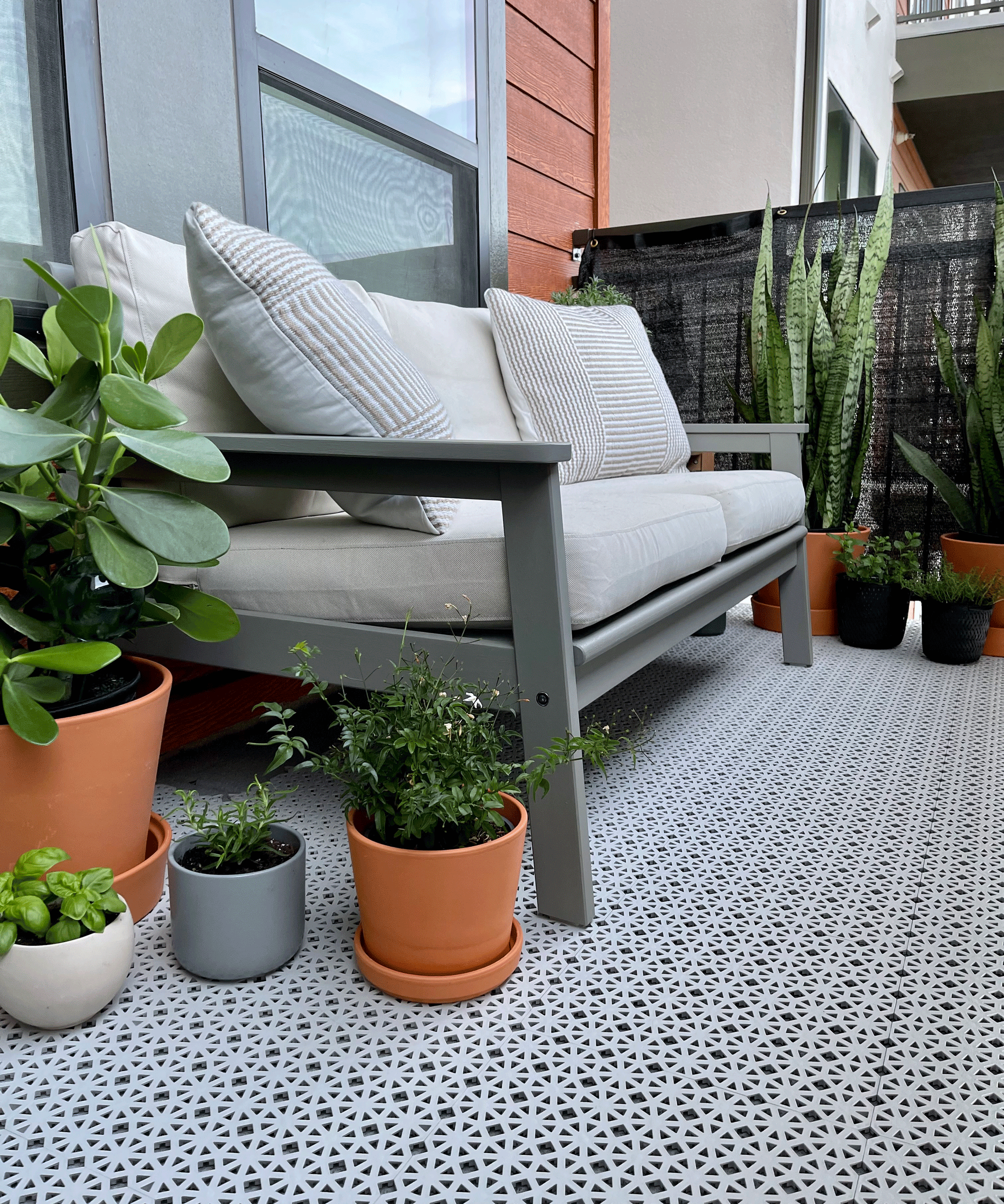 Like what you see? Here's how Interior design and lifestyle duo The House of Penelope transformed their porch with just a few budget-friendly updates. Kelly says: 'We recently moved from Vermont to Texas, so of course, our first project we completed for our new home in Austin, Texas was an entire porch makeover. We used outdoor tiles from IKEA to hide the ugly gray concrete, swapped out our flimsy fold-up chairs with an outdoor loveseat, also from IKEA, styled with throw pillows from Target, and decorated the remainder of the space with plants in clay pots from IKEA! We also incorporated a privacy fence (from Amazon) to make the space feel more closed off and it added an additional level of safety for our two cats who are constantly outside basking in the sun.'
4. Reconnect with nature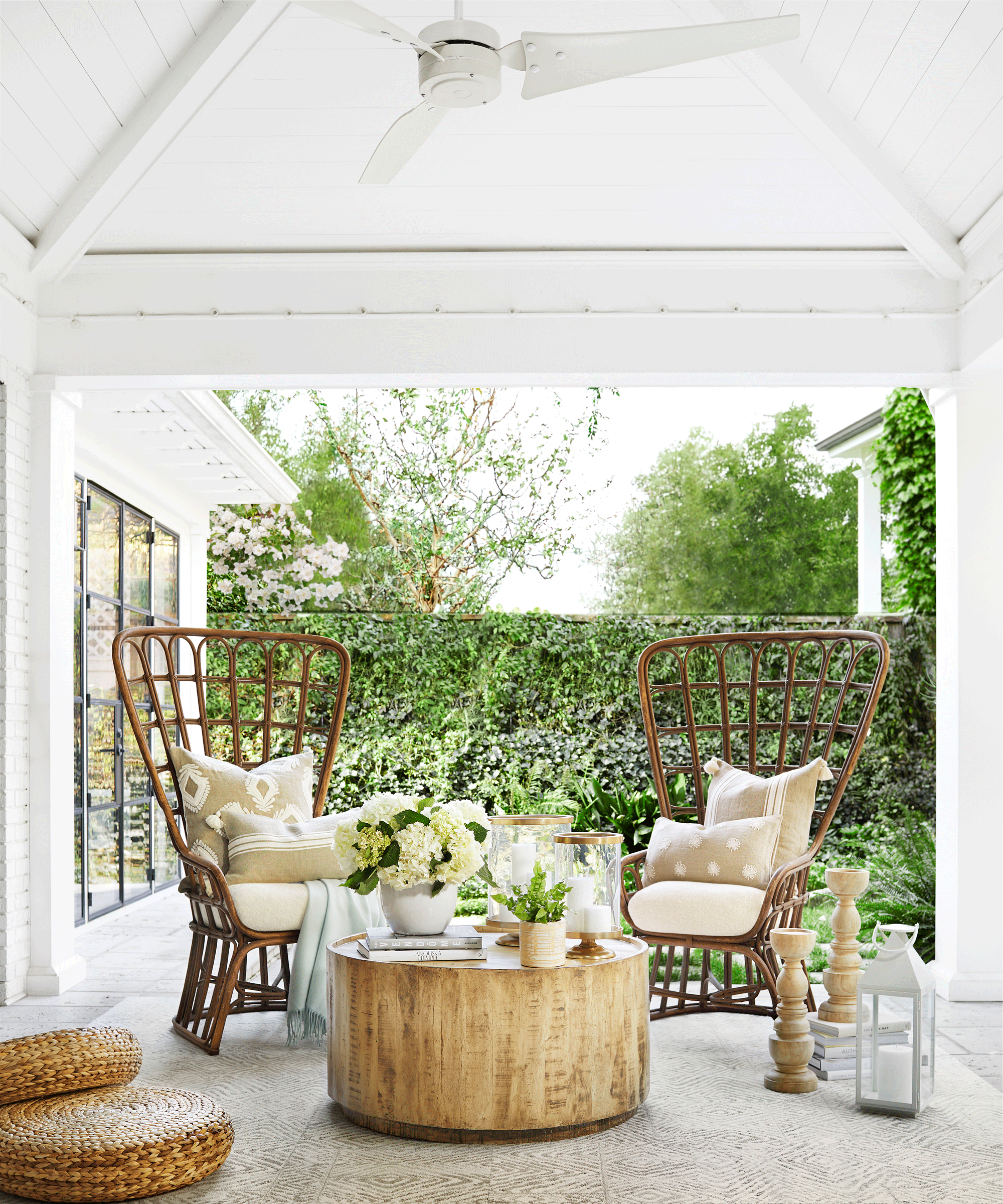 Katherine Cohen, trend and product expert, FLOR, says: 'Biophilic design draws inspiration from the Earth… By consciously including nature in interior or architectural design, we are unconsciously reconnecting, bringing the great outdoors into our constructed world. Nature-inspired patterns, natural textiles, and adding a potted plant to spaces are a few ways to create restorative and connective spaces.'
Hallam says: 'Bring the look home by letting your outdoor space retain a more natural vibe. Perhaps you can create a wildflower garden in the corner of your yard. Plant some vines and let them run wild over a pergola or along an accent wall. Gather up some fresh-picked flowers and display them in a whimsical vase on your patio.' 
5. Create a sociable scene with seating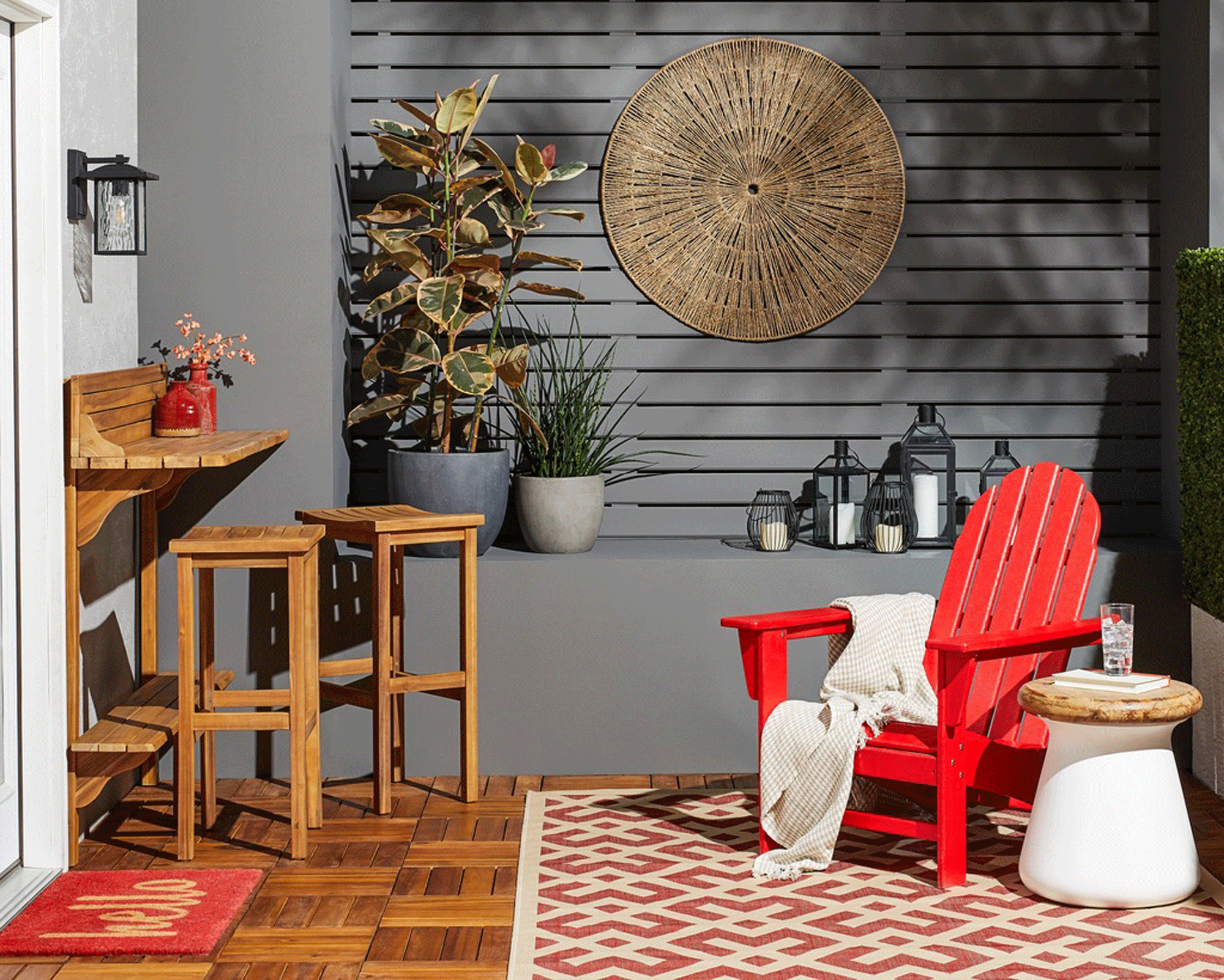 Amber Dunford, style director, Overstock.com, says: 'Spring is a time when people start to trickle outdoors and enjoy time on their patio, waving to neighbors as they stroll by or just enjoying the new life sprouting up in the yard. I would suggest using this warmer weather to introduce fresh seating with the best garden chairs 2022 – perhaps a bistro table and chairs for morning coffee, a welcoming bench with pillows, or a side table and cozy lounge chairs.'  
6. Make waves with sea'spiration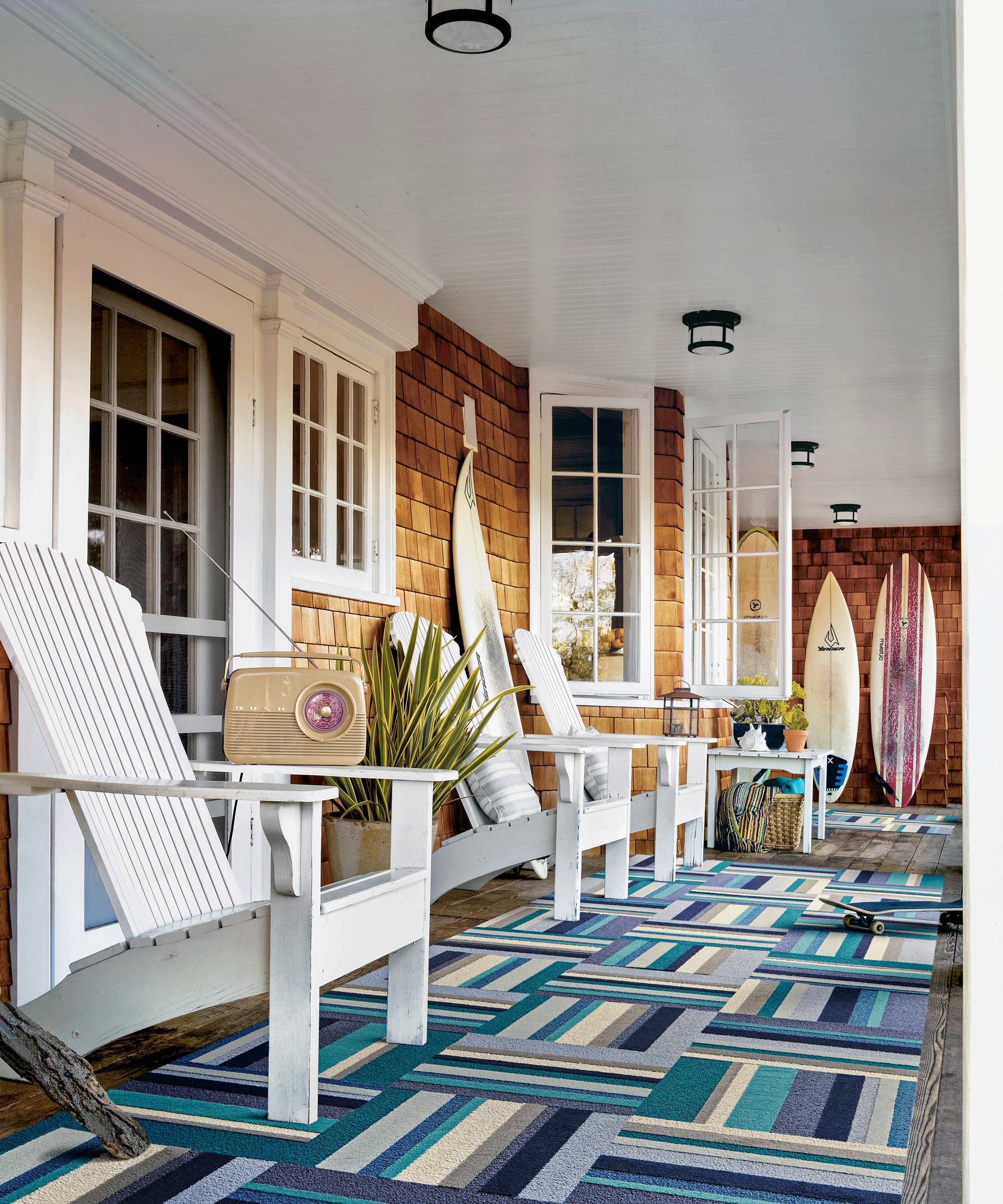 Daydreaming of feeling free at the sea? Bring a revitalizing, salty air vibe to your doorstep with a beach house interior style, that instantly transports you to blue therapy shores…
Cohen, says: 'Who says you have to live near the beach to create the calm feel of an oceanside space? By integrating organic textures, colorful accents, and beachy hues into your spaces, you can feel a bit closer to that beach bungalow of your dreams.' 
7. Spring into yellow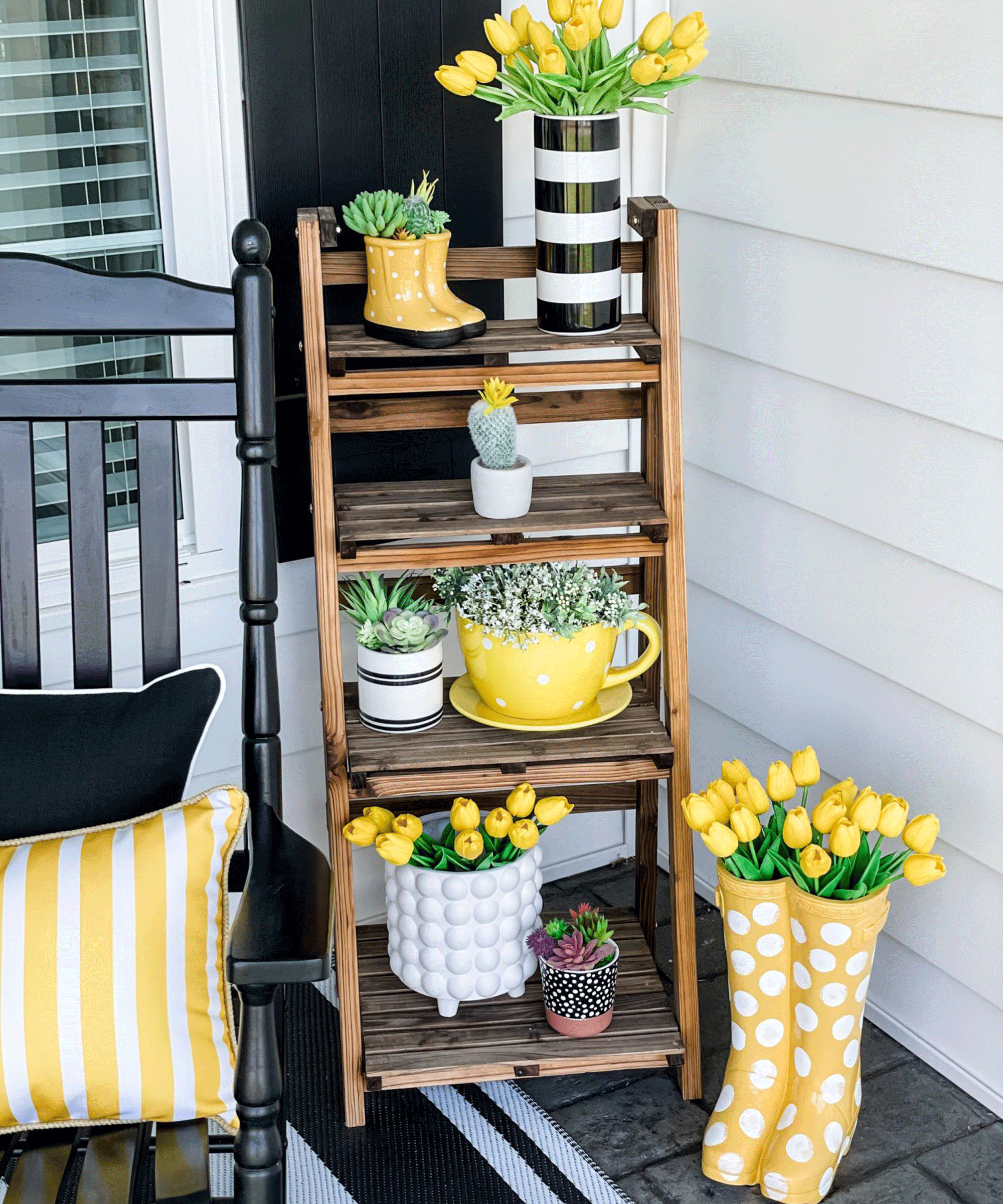 Pinterest searches for 'spring porch ideas' have surged by 669% over the past month. Also trending is sunshine shades of yellow – a key spring decorating trend 2022. So why not combine the two, and radiate your porch in cheerful shades for a zesty boost?
Nick Drewe, trends expert at WeThrift, says: 'Nothing says spring like the color yellow, which is why it should be the first thing visitors see as they step onto your front doorstep.'
'Whilst yellow is a bold color in itself, don't be afraid to be more daring with your patterns too – you can incorporate polka dots and stripes. A particularly nice touch in the design above is the dotted wellingtons, filled with beautiful daffodils to put the spring in your step as you leave the house each morning.' 
8. Texture talks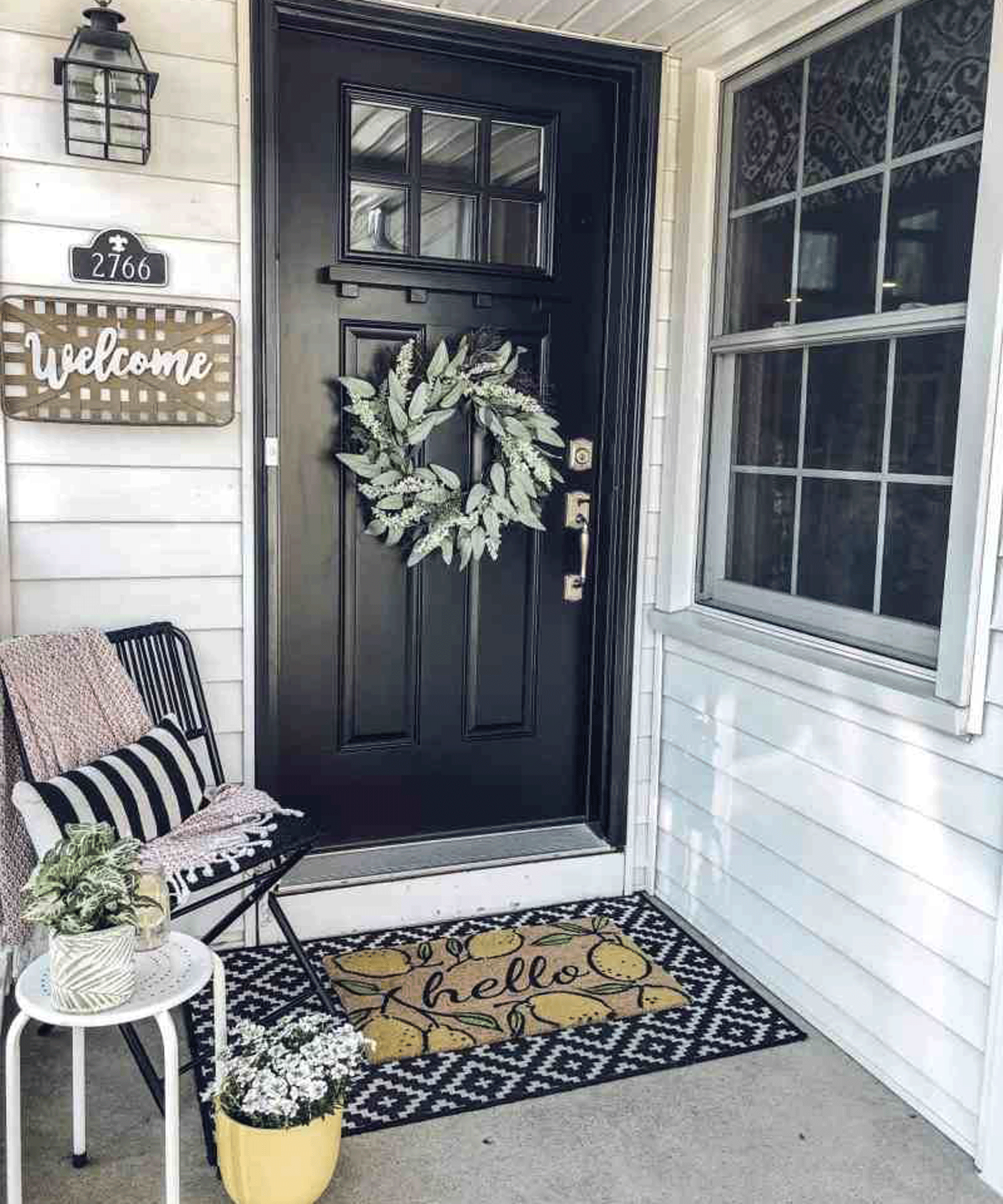 Add layers of interest with small porch ideas that invite tactility and mixed materials into the equation.
Drewe, continues: 'Having those extra touches in your spring porch setup will help enhance that welcoming feeling when you have visitors.'  
'Whilst adding a few accessories including a matt, chair, and wreath will add substance to your porch decor, textures and patterns are how you will really inject personality.'
'By having a textured throw, stripey cushion, and bold doormat with different colors and styles (of your choice- although try to keep within a color scheme), your porch will boast the energy perfectly suited to the springtime.'
9. Create a glowing ambience with candles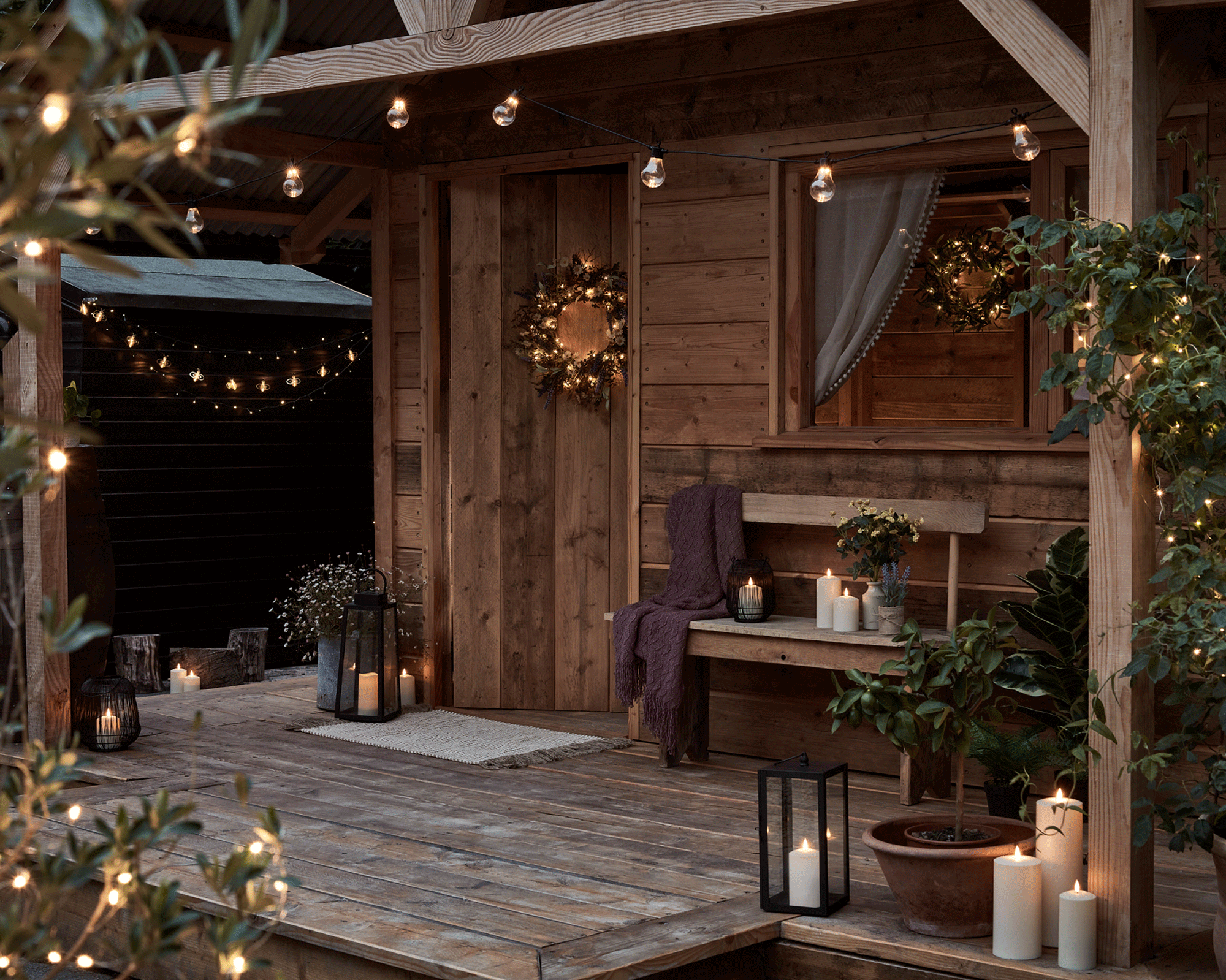 Take the weight off in a porch swing 2022, and absorb ombre sunsets and the gentle buzz of nature amongst a captivating set-up glowing candlelight, and atmospheric garden lighting ideas… Dreamy… 
Drewe says: 'Why should your spring porch only be seen in the daytime? By incorporating some bold candles in glass holders on either side of your door, you can keep your porch lit throughout the night too.'
10. Get on island time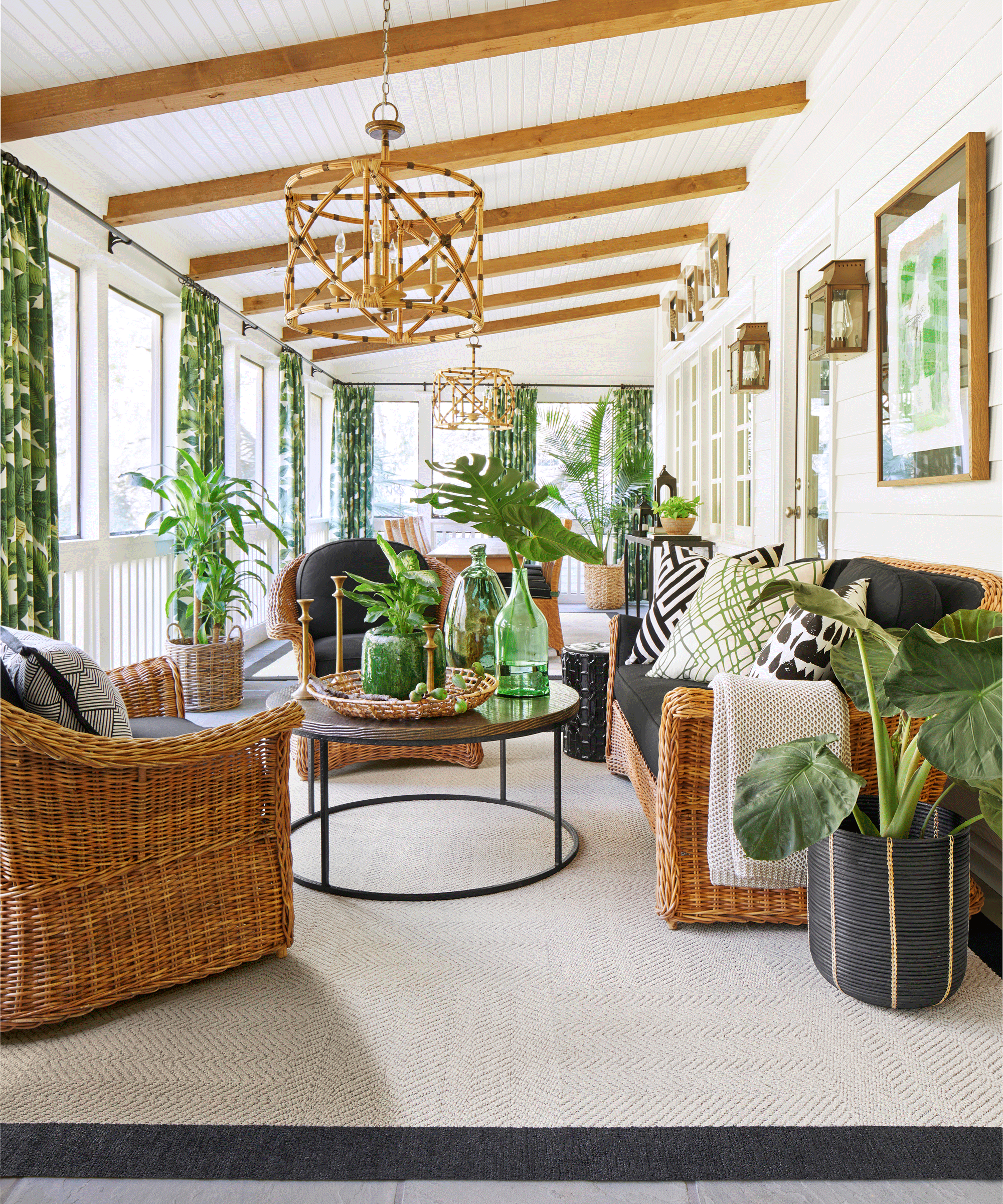 After a long day on the screen, switch into holiday mode and venture to the lush exotic from the comfort of your own home with verdant shades, luscious patterns, and glorious natural materials. 
Cohen says: 'For those looking to turn their patios and sunrooms into oasis-inspired escapes, look no further than the subtle woven textures of Jute-inspired textiles. With natural colors and a distinctive look, Jute rugs are the answer to any patio space.'
11. Add an awning shade for protection against all weathers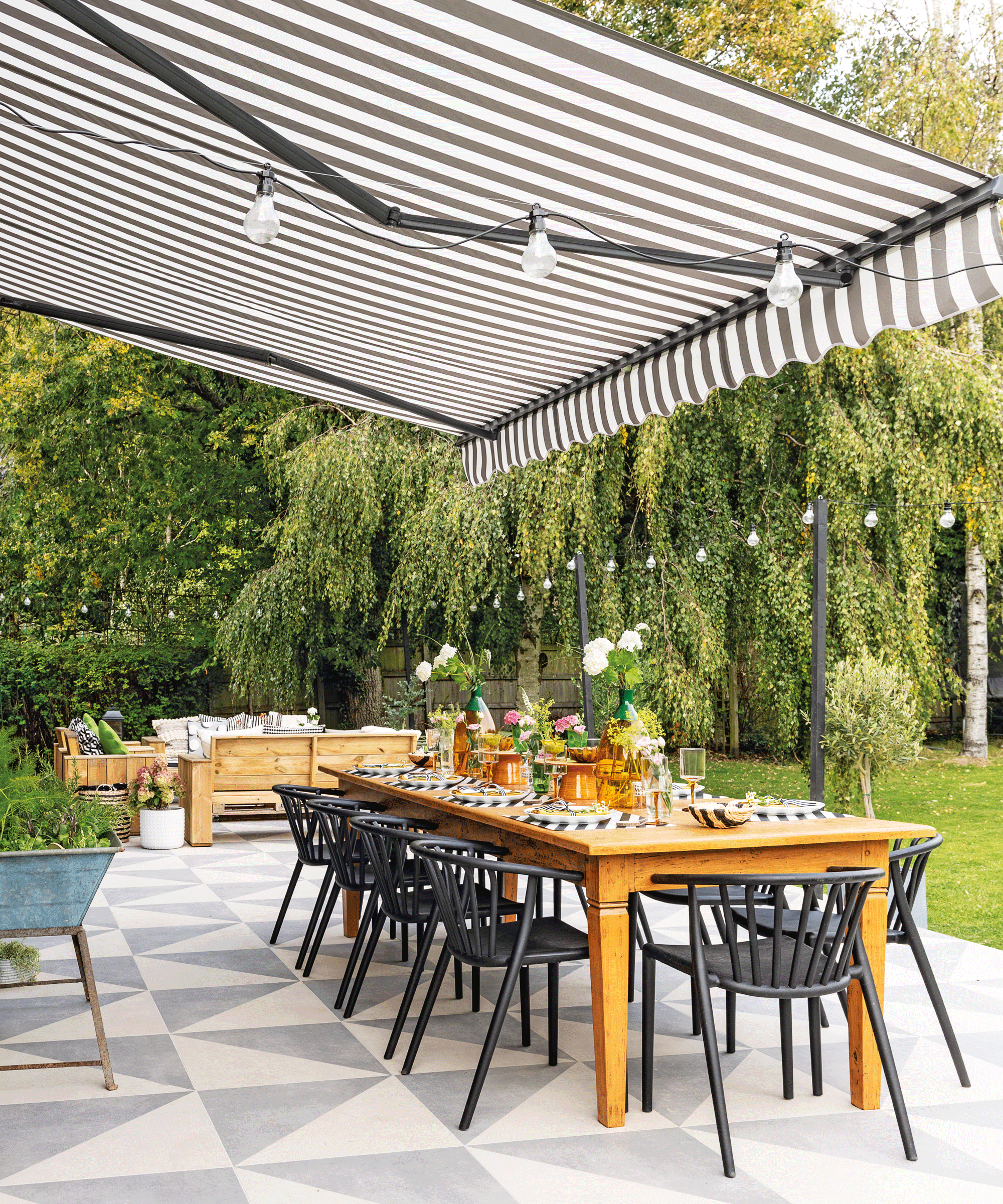 Refresh your porch, and transform it into an outdoor destination with a stylish shade or patio umbrella that offers protection, so that you can enjoy fresh air relaxing, and socializing come rain or shine.
Window fashion experts at SunSetter, say: 'Awnings are a stylish and simple solution for homeowners who want to expand or enhance their porch to create an oasis outdoors for relaxation, gathering and entertaining and of course, for their own health and wellbeing. SunSetter offers many advantages and benefits including greater outdoor enjoyment, weather and UV protection, shade, energy savings, and custom-built features without the custom-built price. SunSetter awnings allow homeowners to enjoy their outdoor spaces in a protected, custom, and affordable – but also stylish – way.'
12. Make a bright and breezy statement with textiles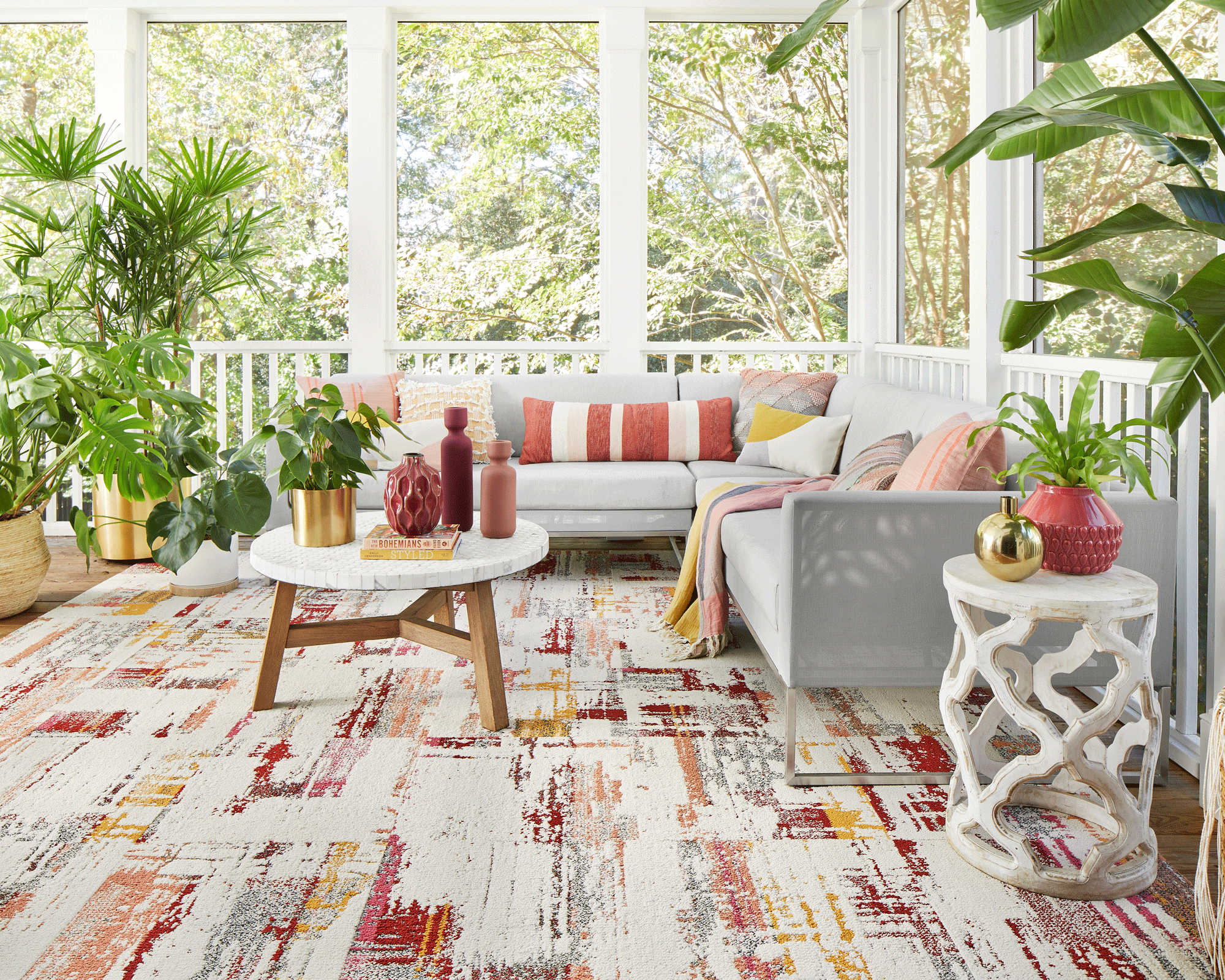 Layer-up on comfort and color with pattern-popping soft accessories that add wow-factor personality and fiesta-infused spirit. 
Hallam says: 'Maximalism is big right now and the look is confident, filled with texture, and powerfully expressive. Think over-the-top patterns, vibrantly saturated colors, and show the world exactly what makes you smile. One easy way to personalize your space with maximalist details is through textiles and layering. Add a flashy blanket with an eye-catching design and maybe even a pile of outdoor cushions 2022 for outdoor lounging. String up some outdoor lights and in no time, you'll have a bohemian backyard you can enjoy day or night.'
13. Make a statement with doorscaping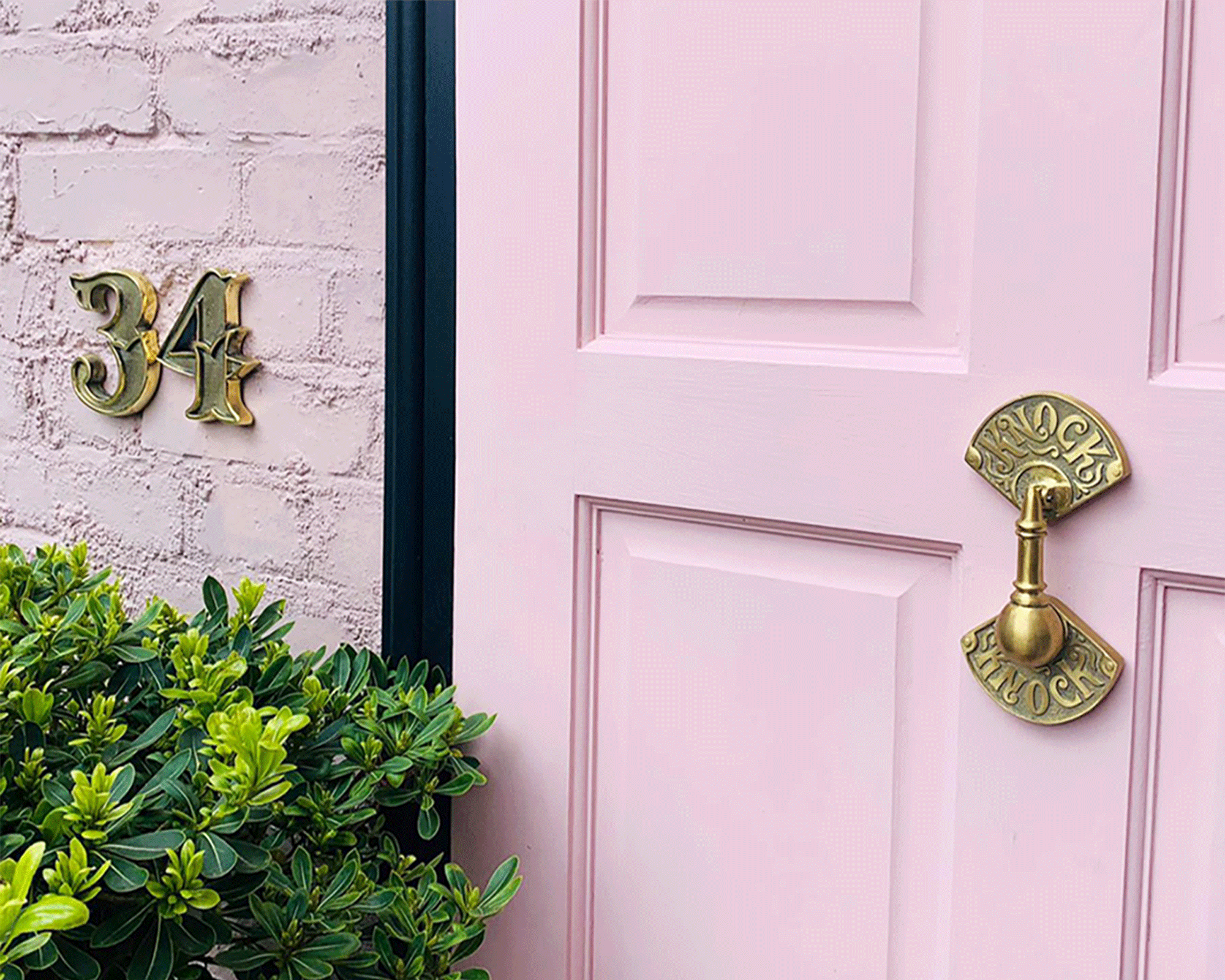 Make your front door say more with a color splash makeover. Embrace 'doorscaping' – the art of decorating your doorway with seasonal foliage, a chic knocker, and house numbers, to up the neighborhood watch style stakes. Painting doors is easy with our expert advice. 
Robin Antill, director, Leisure Buildings, says: 'Color the door for a fresh new look, saying goodbye to the worn-out entrance porch for the season, and add a charming moss wreath for added warmth.' 
14. Add a layer with curtains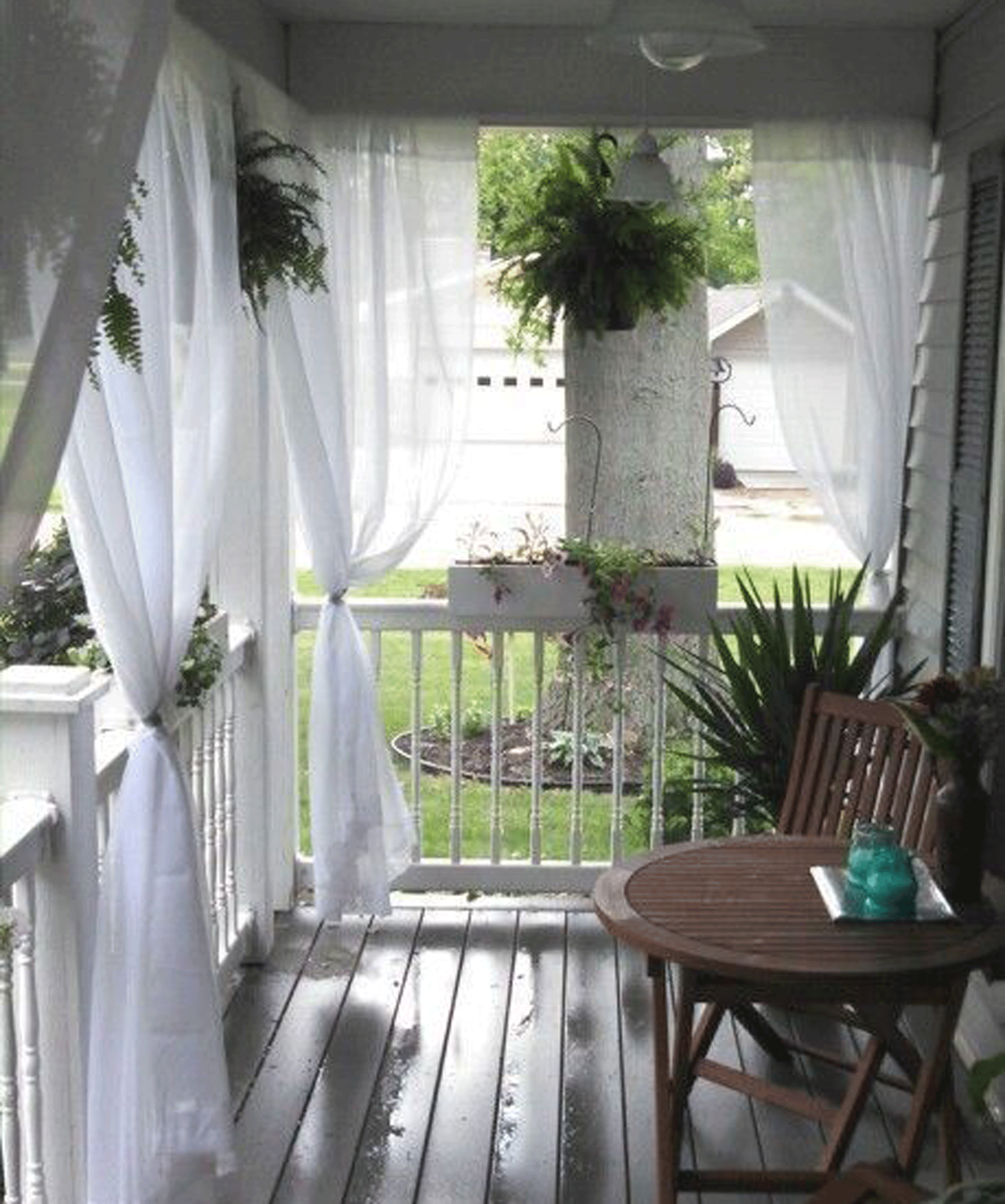 Drewe says: 'Curtains are a great way to frame your outdoor living space and also give you the privacy and shade you may need whilst the sun is beaming down.' 
'Opt for a thin curtain as opposed to a thick one, as you still want to allow elements of light to shine through them. Ideally, a white, cream, or ivory curtain would be a beautiful choice perfect for the springtime!'
Learn how to hang curtains in four easy steps. 
15. Keep mixing it up with a seasonal theme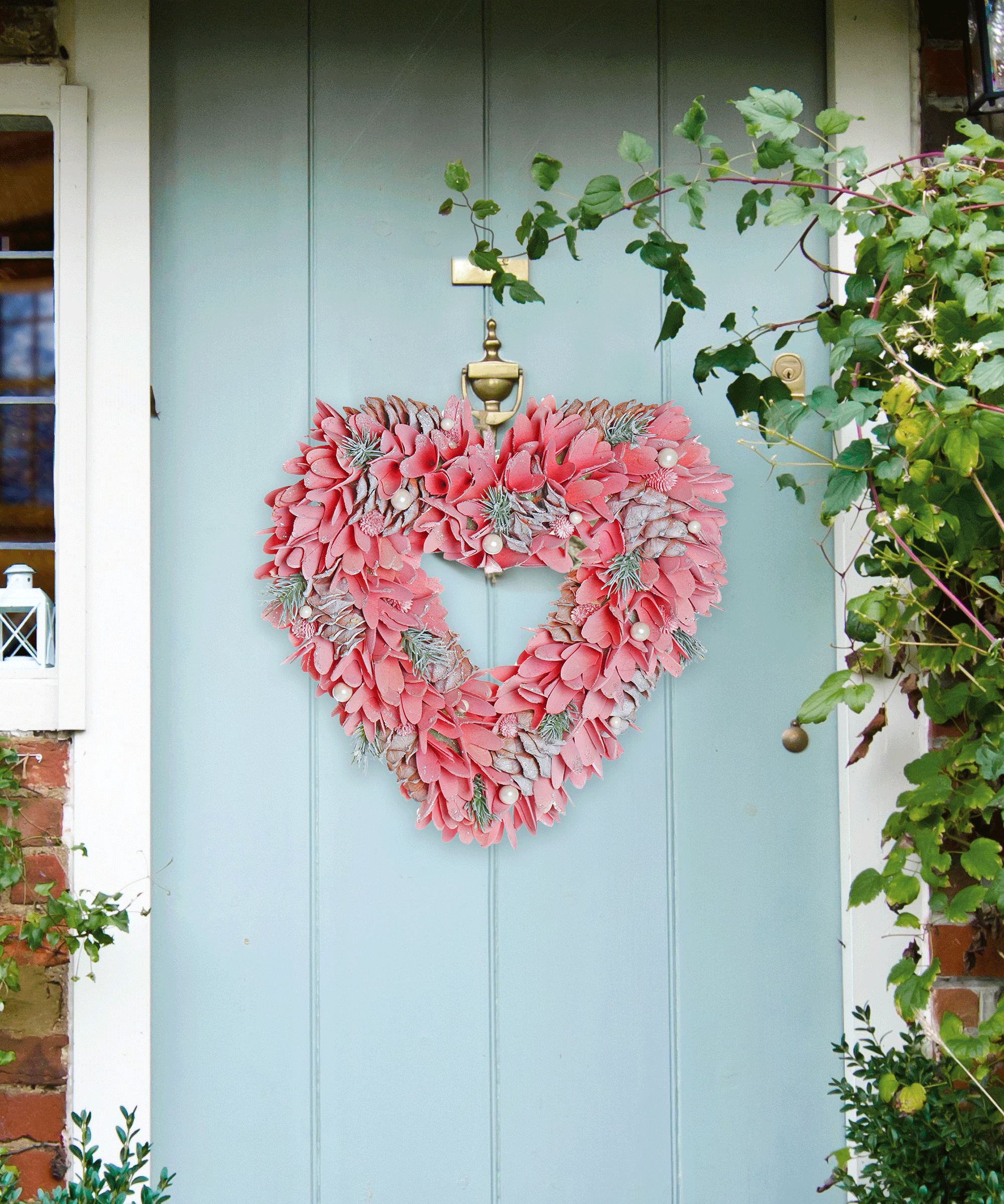 Gardening experts and outdoor specialists at GardenBuildingsDirect.co.uk, say: 'You could decorate your porch and porchway with objects that signify specific periods of the year, such as pie pumpkins near Halloween, daffodils in pots in the spring or a spring wreath, or flags tied to the porch for a family celebration.'
Brian Donovan, CEO, TimeShatter, says: 'A person's front porch is synonymous with spring. Once the sun is shining and songbirds are chirping, you gravitate towards wanting to spend more time admiring nature and being closer to the outside. However, it might still be a bit chilly depending on where you live, so a porch is a fabulous place to hang out. My front porch is screened in, which is fabulous for both privacy and climate control. I keep an outdoor blanket and a stack of books and journals out there that I can pick up at leisure. You can install fairy lights along the circumference of your porch to really make the vibes right.'
16. Add punchy pattern with floor tiles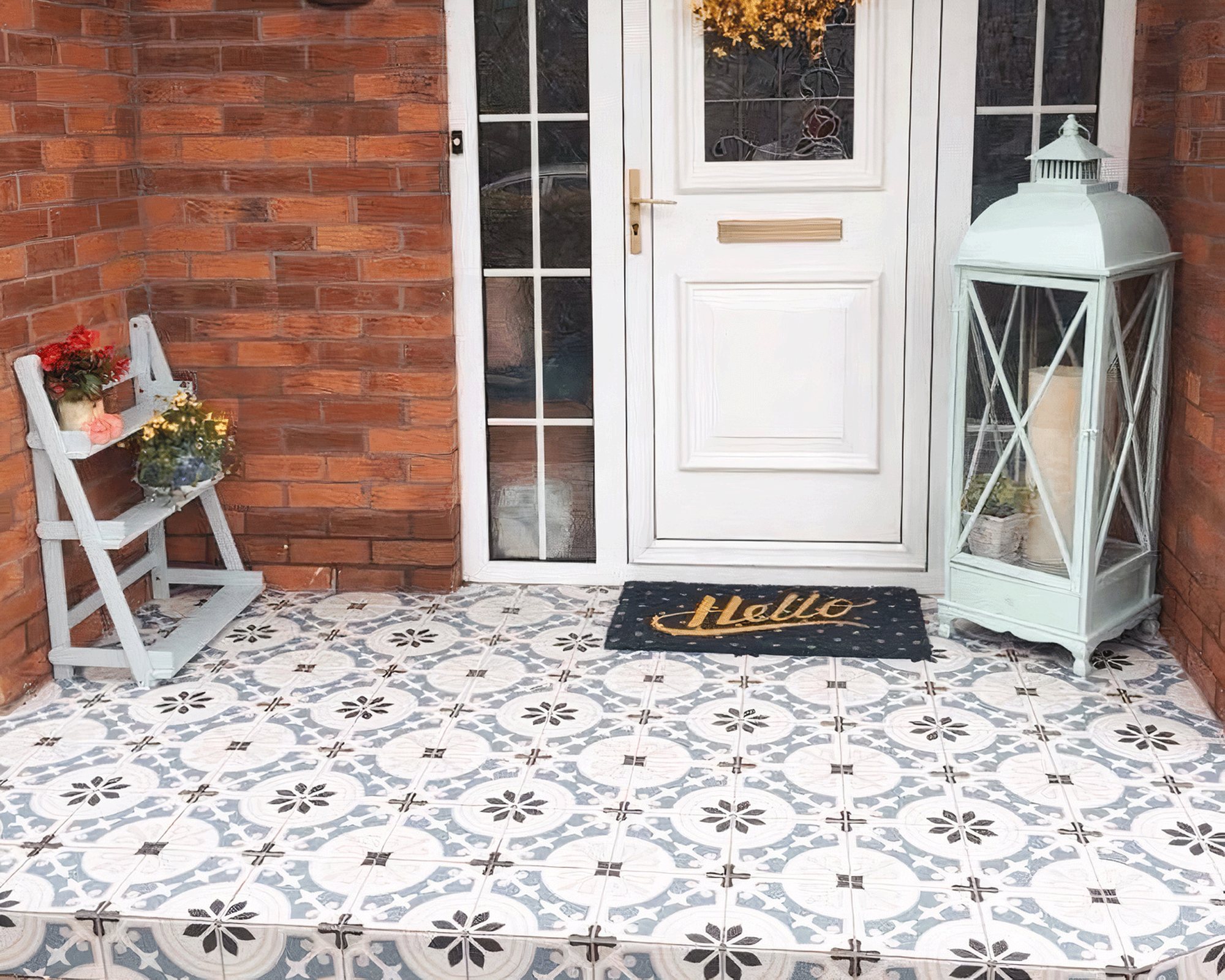 Flooring experts at Adora Tile, say: 'As we come into spring and the sun starts to shine, many of our clients would like to spruce up their porch and make it warm, welcoming, and interesting! Porcelain tiles are the perfect choice for this as they are durable, non-slip, and easy to keep clean. There is such a wide and varied selection of tiles available, from pretty patterns to thick porcelain slabs meaning that whatever your style and design ambitions for your porch, porcelain tiles are a perfect choice!'
17. Think about scale and function when it comes to furniture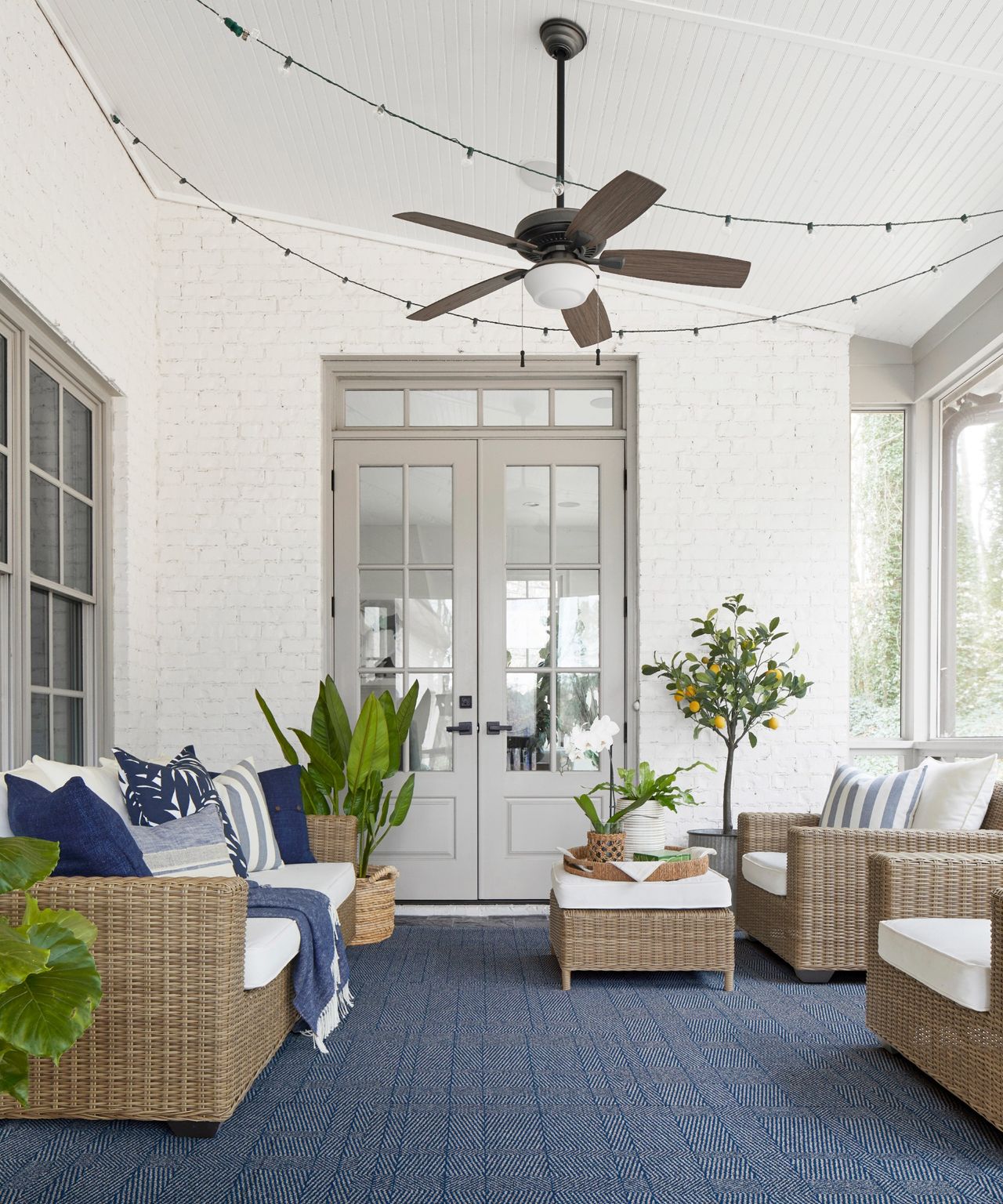 Amy Leferink of Interior Impressions, says: 'Think about scale and function when it comes to furniture. Do you plan on hosting large BBQs and gatherings outdoors and need a long bench or table, or will you primarily be using it to enjoy a cup of coffee in the morning or a glass of wine at the end of the day with your partner or loved ones? That will impact the size and style of furniture you'll need.'
'The best outdoor furniture 2022 is a must, but don't be afraid to have fun with patterned throw pillows you can swap out seasonally to bring a new vibe to your patio or porch.'
How do I decorate my front porch for spring?
Jeremy Yamaguchi, CEO of Lawn Love, says: 'Spring is all about bright colors. We're transitioning from the dark, cold winter into the light, sunny summer, so spring is when we start to see color again, even when it's still a little rainy and gloomy outside. So, to make your porch extra bright and colorful, plant colorful, spring-blooming flowers! You can use planters, hanging baskets, flower beds, or a combination of those, depending on the size and shape of your porch (and your personal preference).
Here are some more top tips from GardenBuildingsDirect.co.uk:
1. Vine-Covered Porch
Recreating an old-world style, consider planting lots of vines to cover the front of the house, or centered around the porch area which will add to the atmosphere. It will offset the rest of the front space well, especially if it is shaded by trees and other garden features.
2. Yard 'island'
Consider creating an island or focal point in your yard, whether it is with a rockery feature or plants. This will help to break up the scenery by providing a central point of interest within the space.
3. Striking features
You could take a bold move by introducing a water feature or a stone pathway to your front yard. This may be a longer-term investment but is sure to add interest and value to your home.
4. Hanging baskets for contrast
Large planting beds to either side of a grass pathway to the front door, filled with thick bushes and a ring of bright flowers can provide an eye-catching display for visitors and home dwellers.